Members of DAHS gathered in Elk Horn, Iowa, for the organization's seventh international conference June 22-24. The event was held in conjunction with Museum of Danish America's 40th anniversary celebrations. The 100 people who attended the DAHS conference were part of a crowd of 400 who turned out for the MoDA anniversary events.
John Mark Nielsen, president of DAHS, said it was appropriate to gather in Elk Horn. "Here, 40 years ago, a committee of DAHS members met to determine a site for a museum preserving and telling the story of Danish immigration and settlement in the United States," he said. "No community put forth such a sustained effort to host the museum as the people of Elk Horn, Kimballton and surrounding towns. No state joined their effort the way the State of Iowa did. The DAHS committee recommended that Elk Horn be the site for this museum."
The conference theme was "Ecologies and Ethnicity."
Nielsen said the story of human migration continues to be important. So too, although not anticipated by most people 40 years ago, is the sustainability of our environment, he said.
Conference speakers for Thursday-through-Saturday event explored the intersection of migration and the environment as attendees celebrated the founding of MoDA. The conference also coincided with MoDA's annual Sankt Hans Aften midsummer festivities.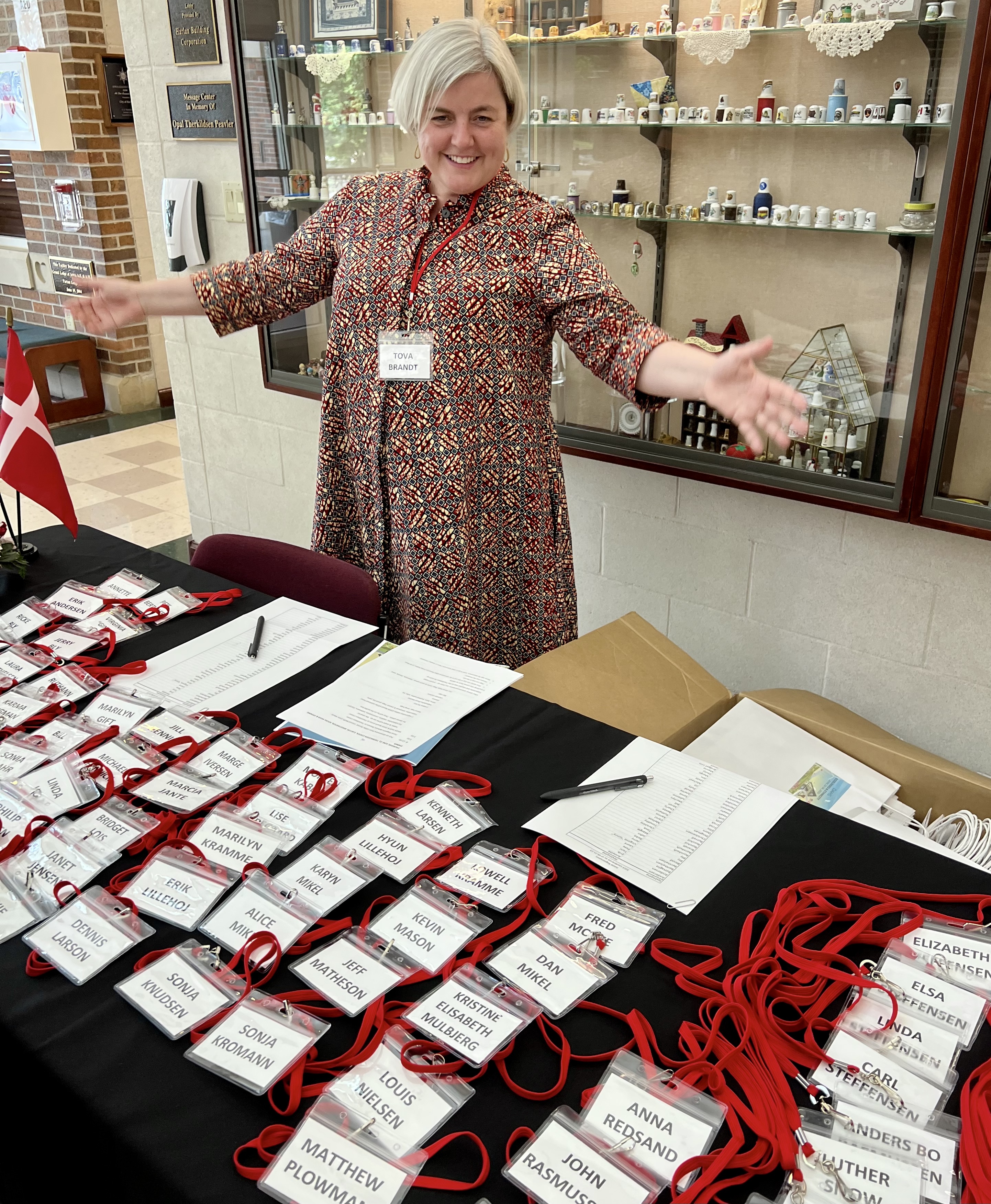 Tova Brandt, a DAHS board member and executive director of the Museum of Danish America, welcomes opening-night attendees at the Therkildsen Center in Harlan, Iowa.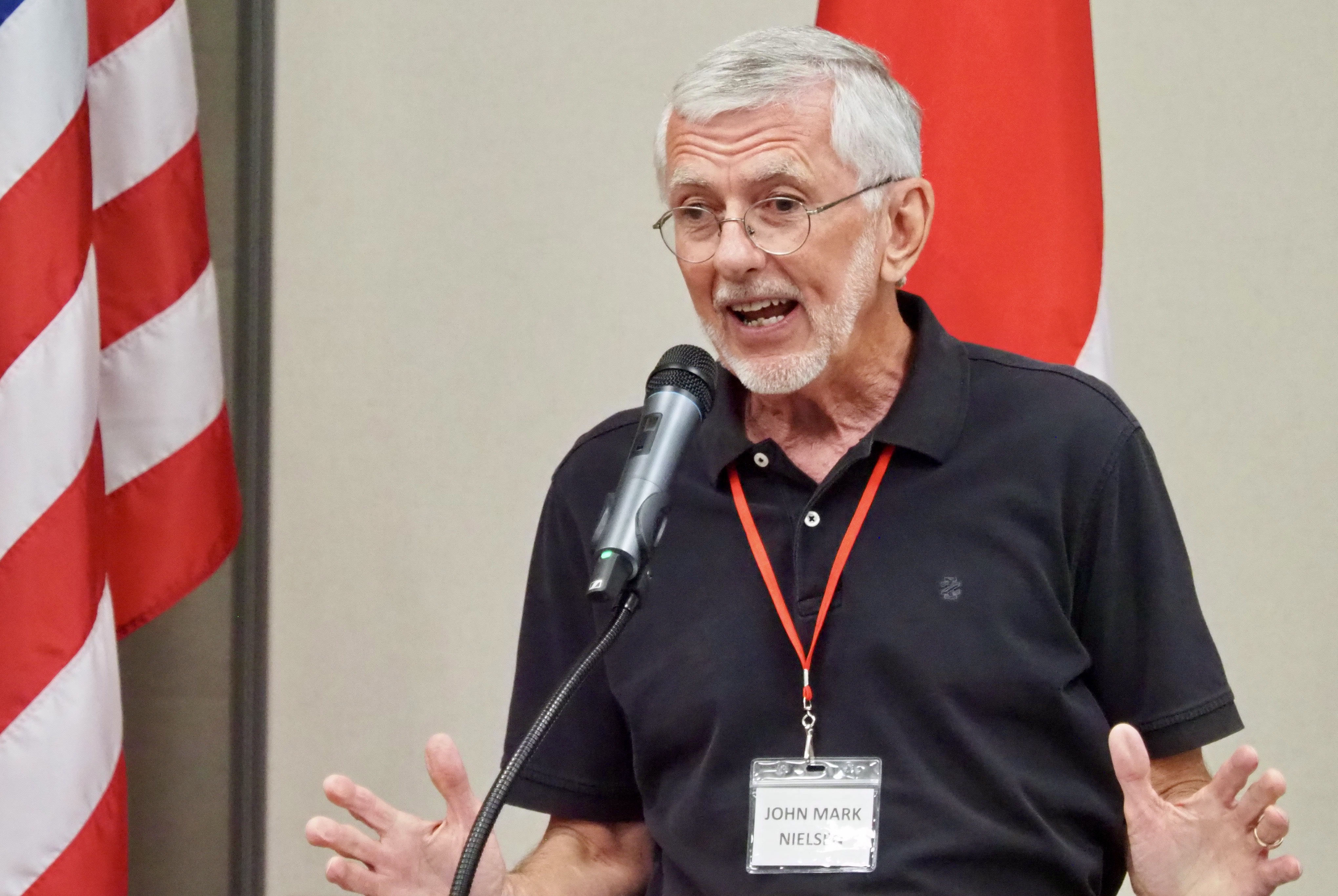 John Mark Nielsen, president of DAHS, welcomes conference attendees.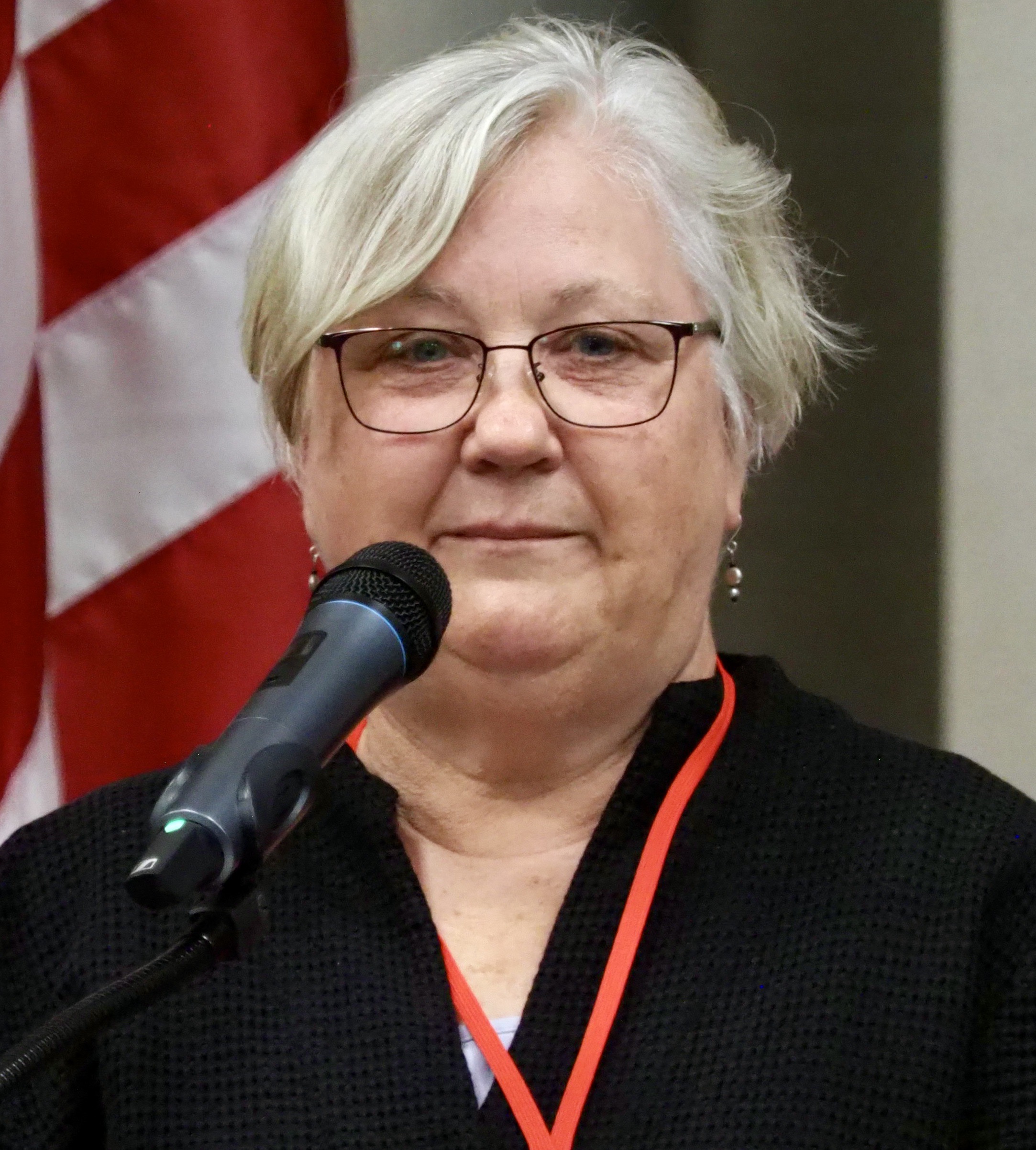 Lise Kildegaard, a DAHS board member, provided words of gratitude.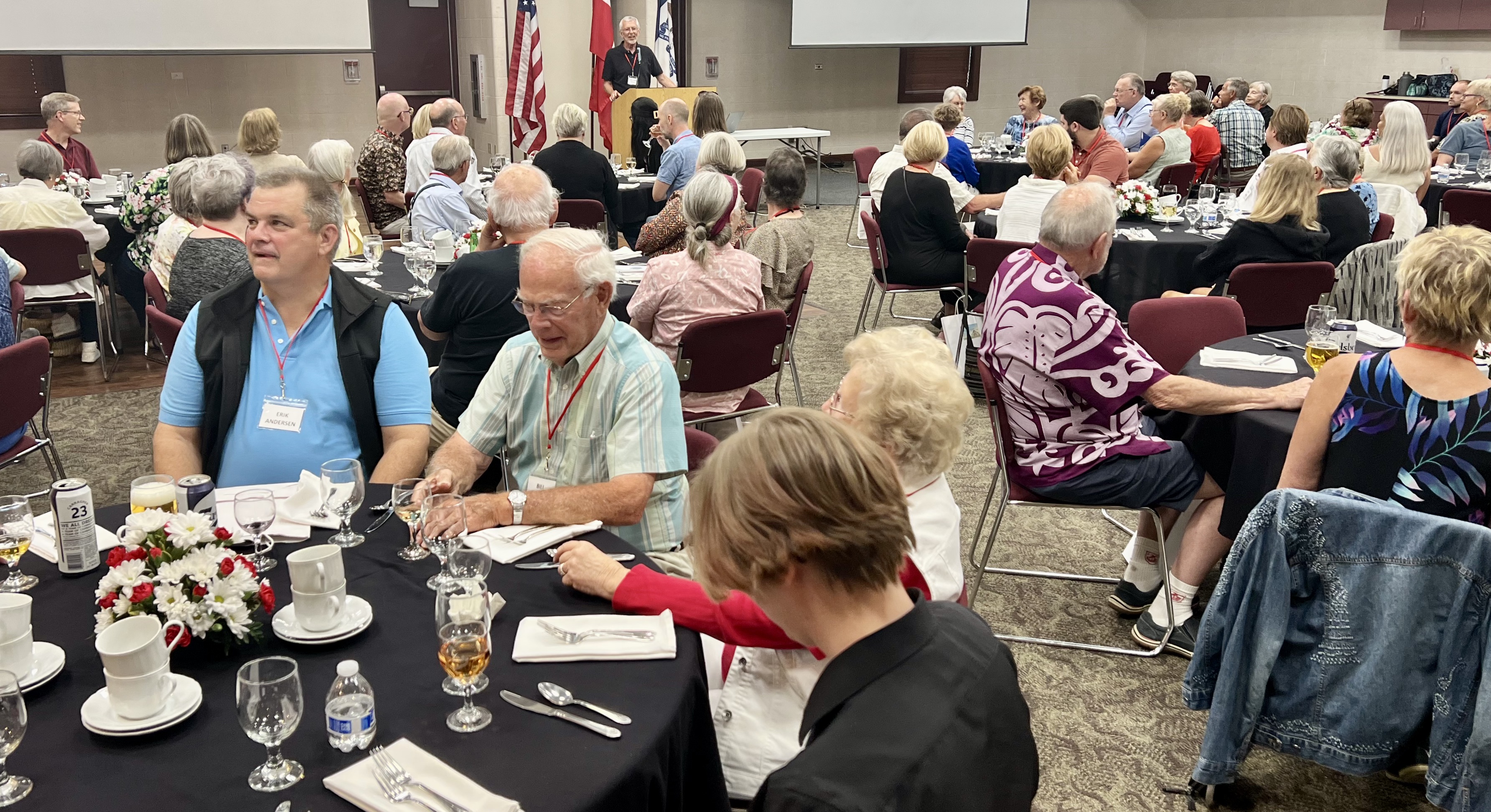 Attendees at the opening dinner.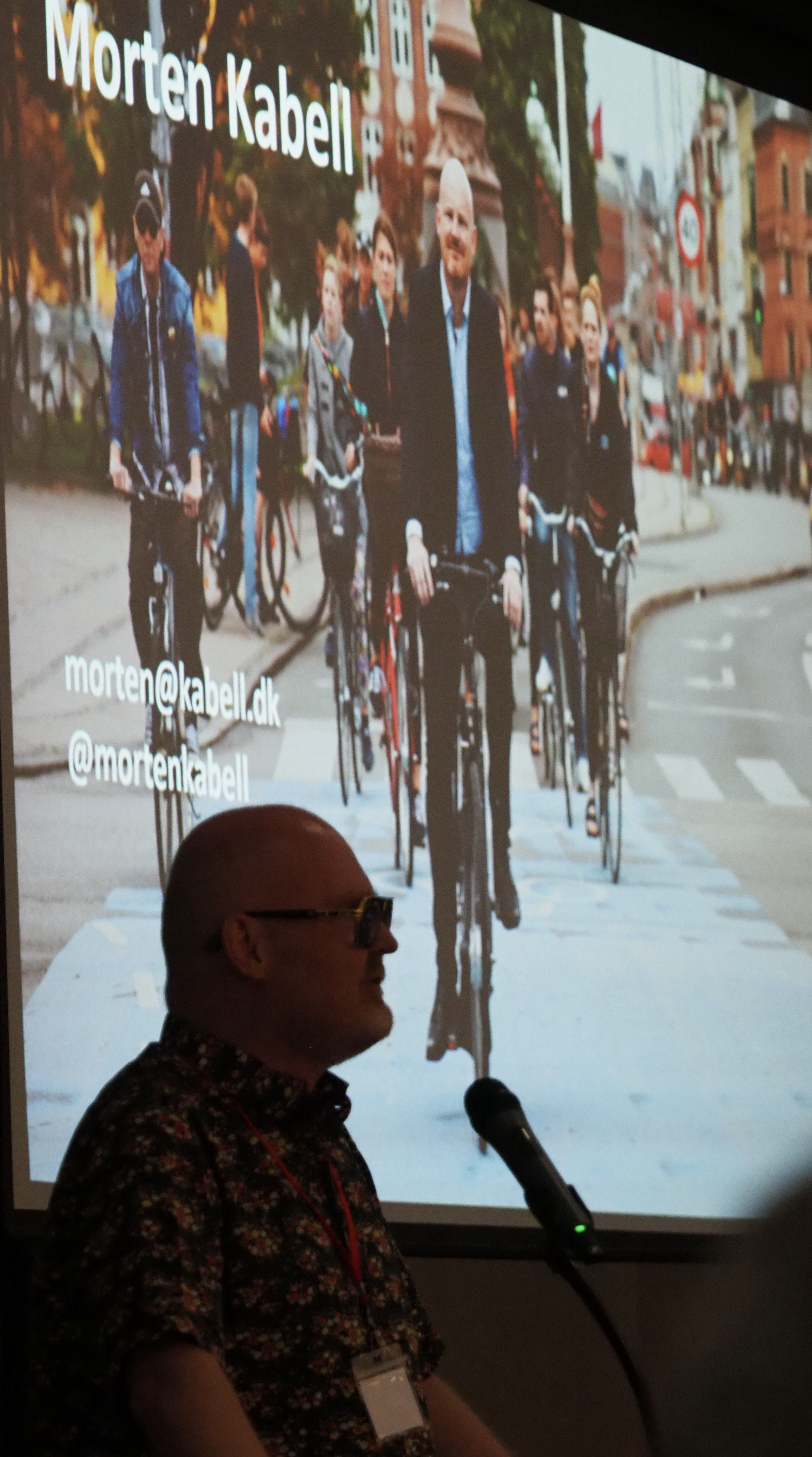 Morten Kabul, Copenhagen's former mayor for mobility, climate and urban development, presented the keynote address at the conference opening. He was the head of Copenhagen's transformation into one of the world's best cycling cities.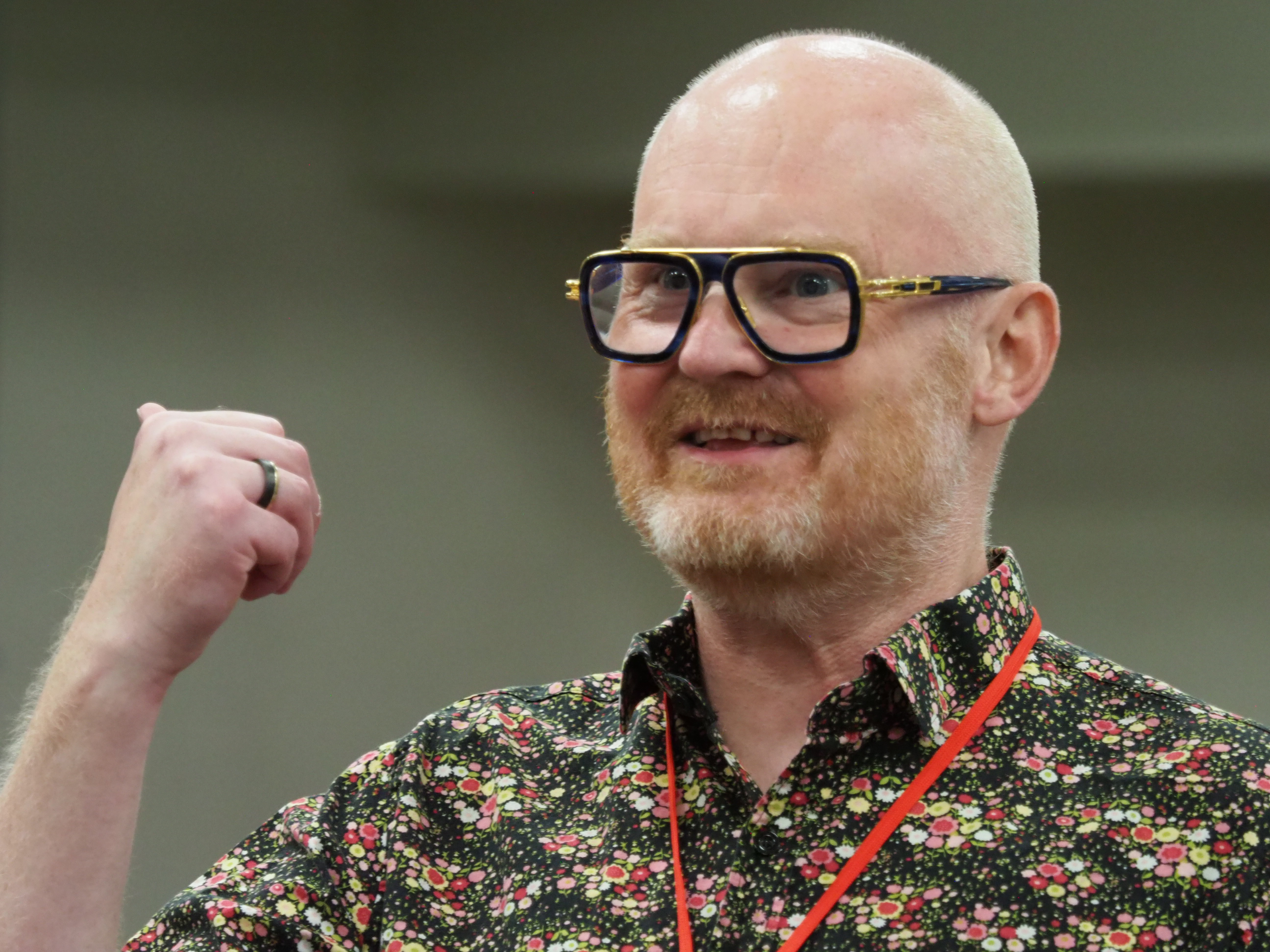 Morten Kabell.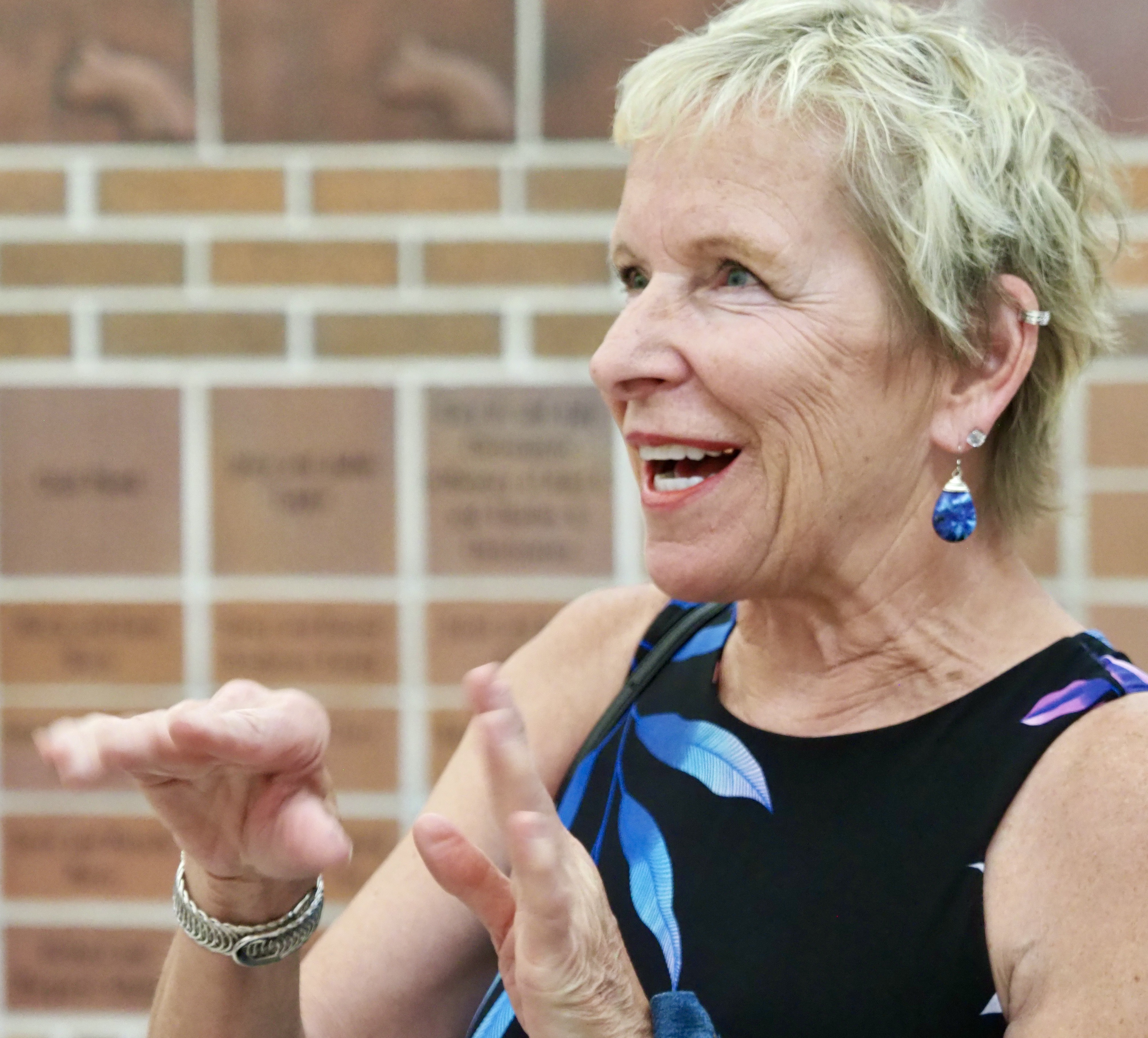 Marcia Jante, a MoDA board member, at the DAHS conference.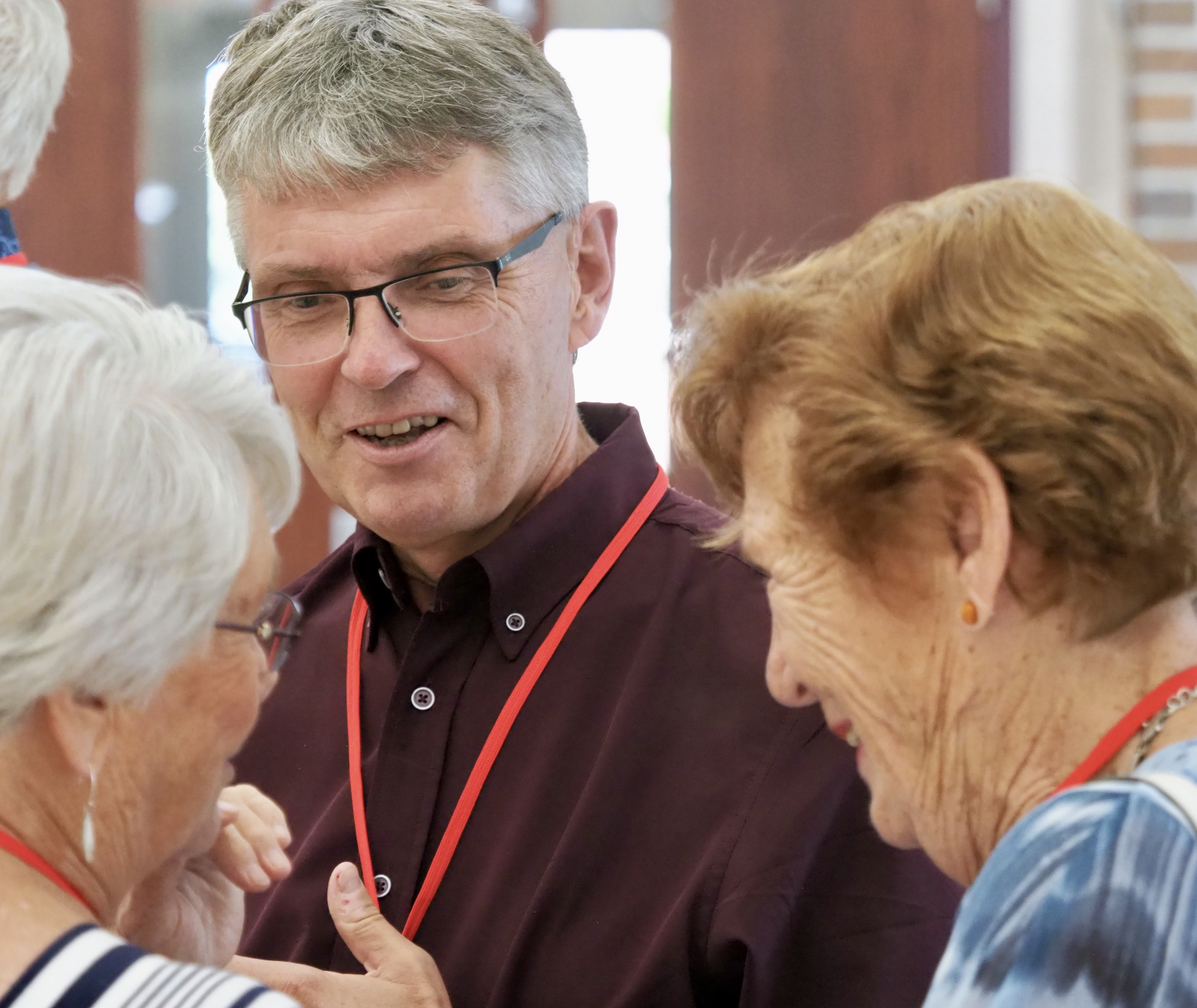 Tim Burchill visits with Annette Andersen and Bente Ellis.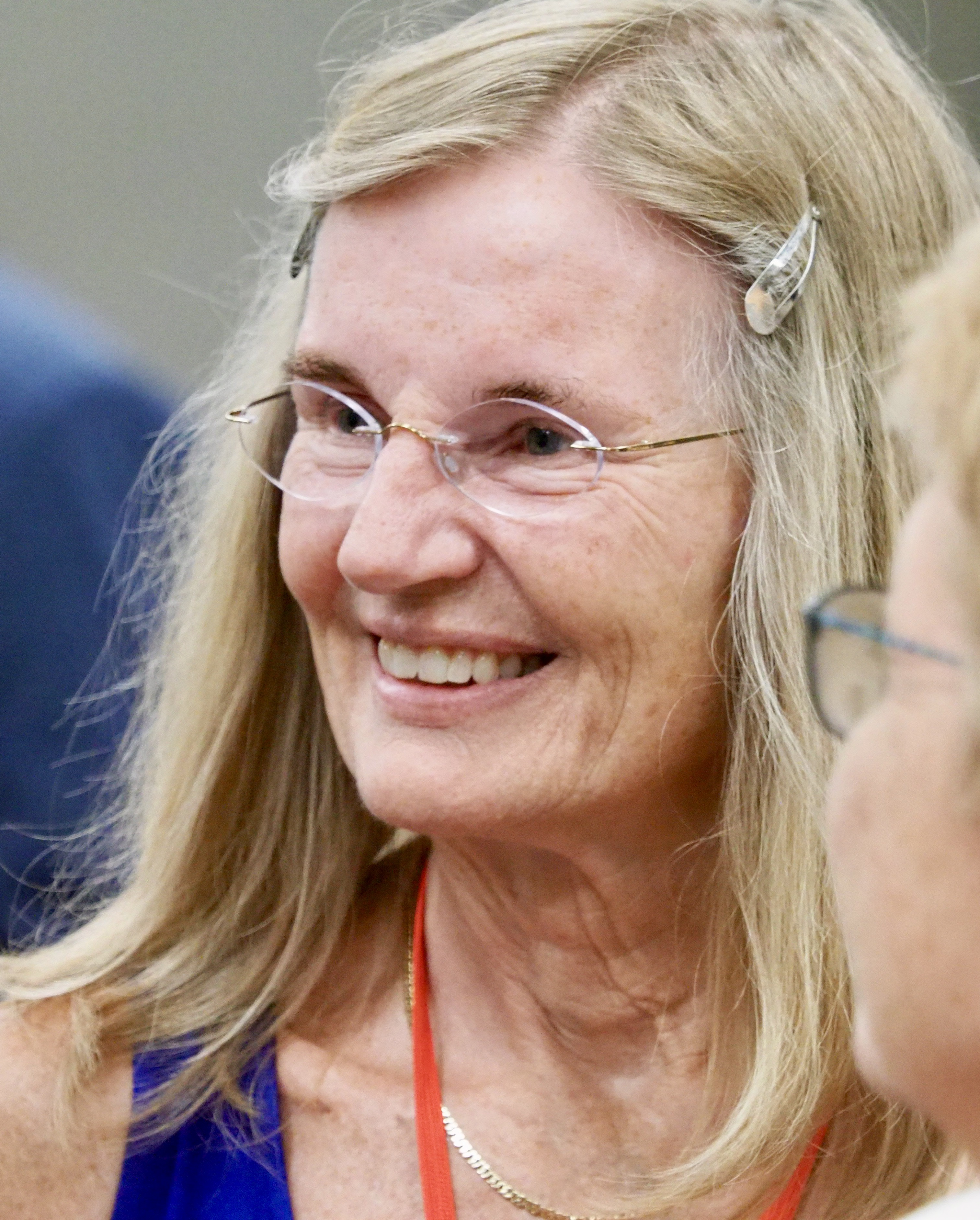 Nete Schmidt, a DAHS board member.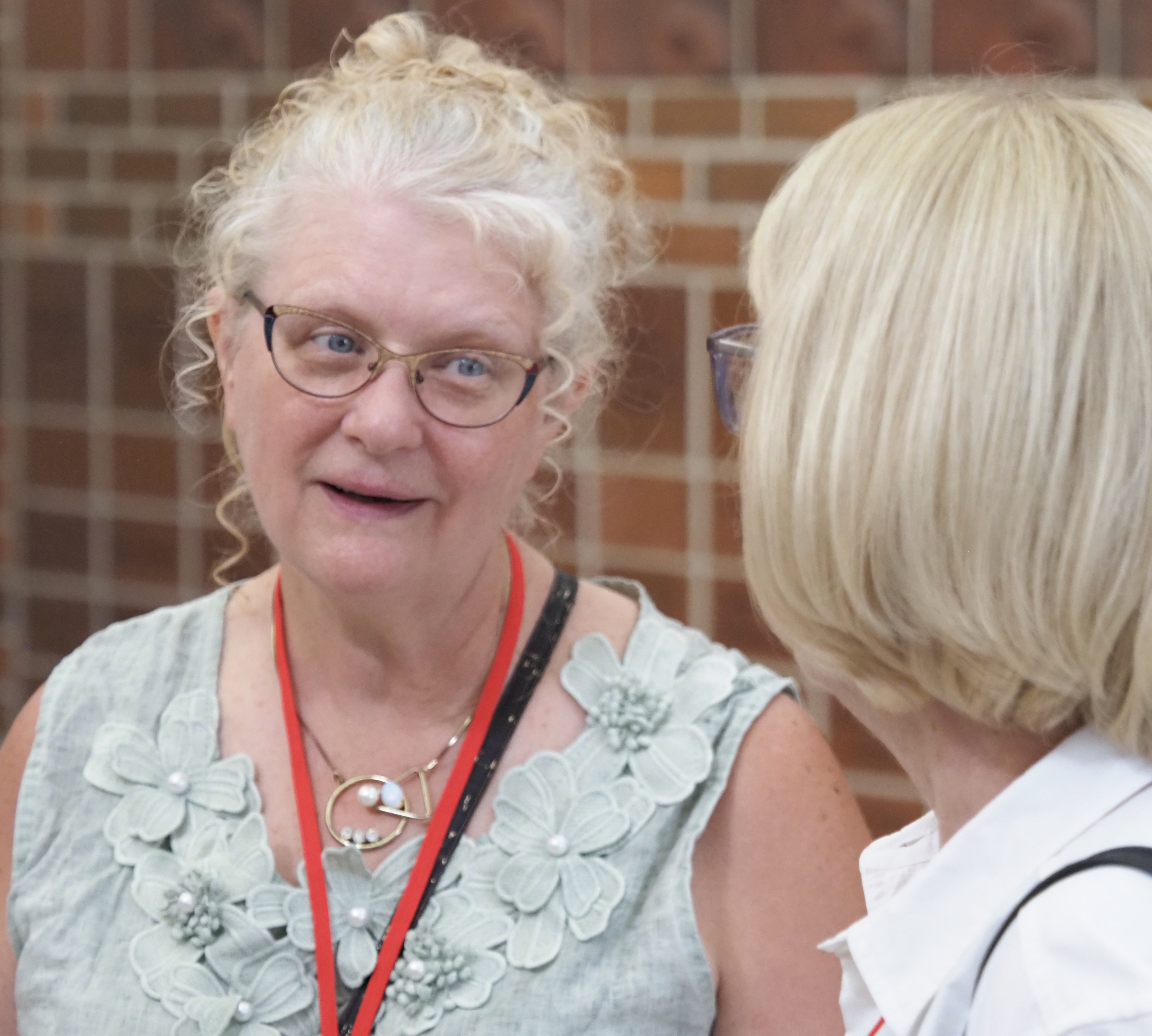 Christine Burchill visits with Dawn Nielsen.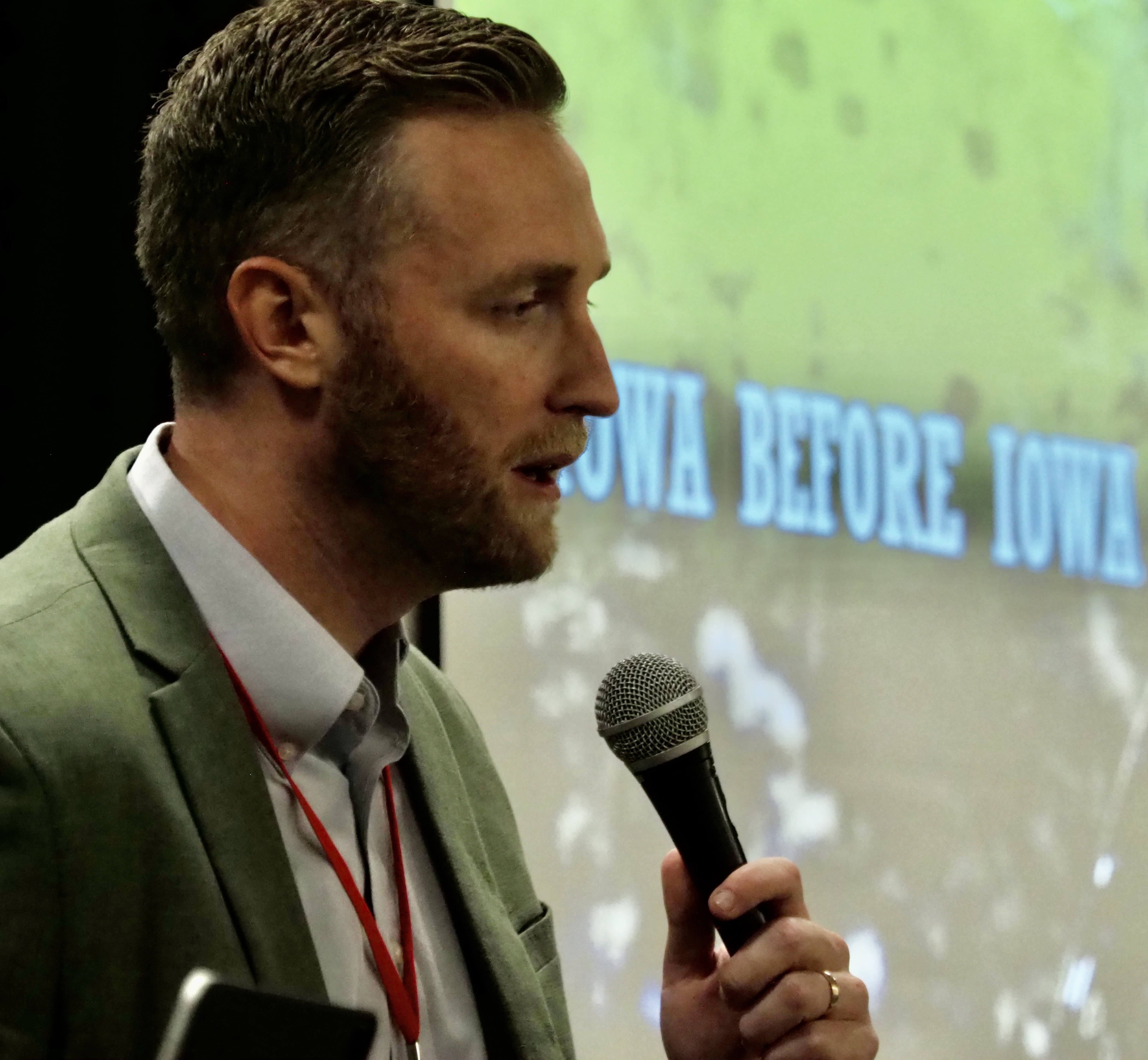 Kevin Mason opened Friday's programs with "Agents of Change: Immigrant Communities, Indigenous Considerations, and Environmental Change in Early Iowa."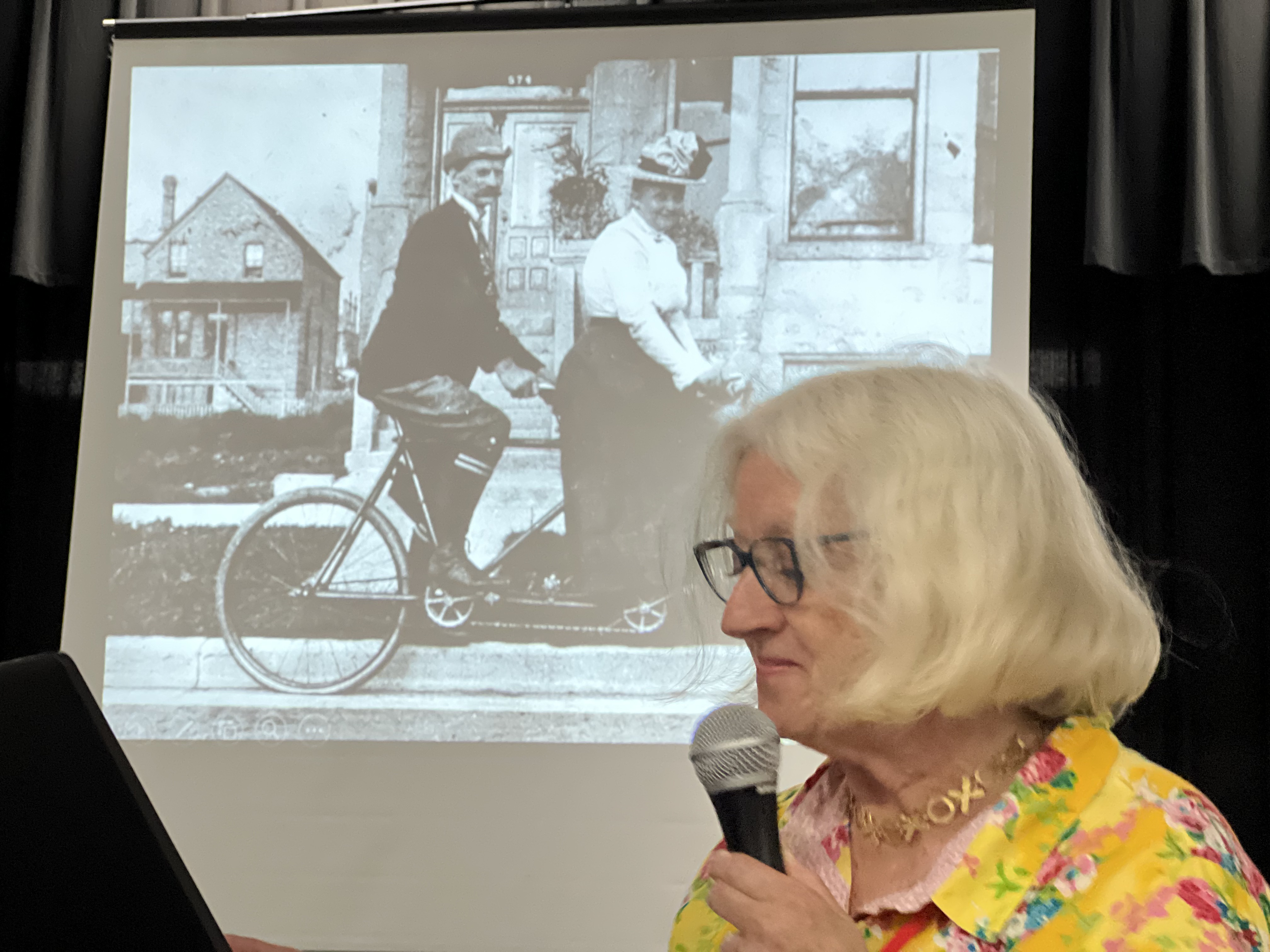 Virginia Small presented "Jen Jensen's Influence and Legacies: Celebrating Native, Local and Sustainable."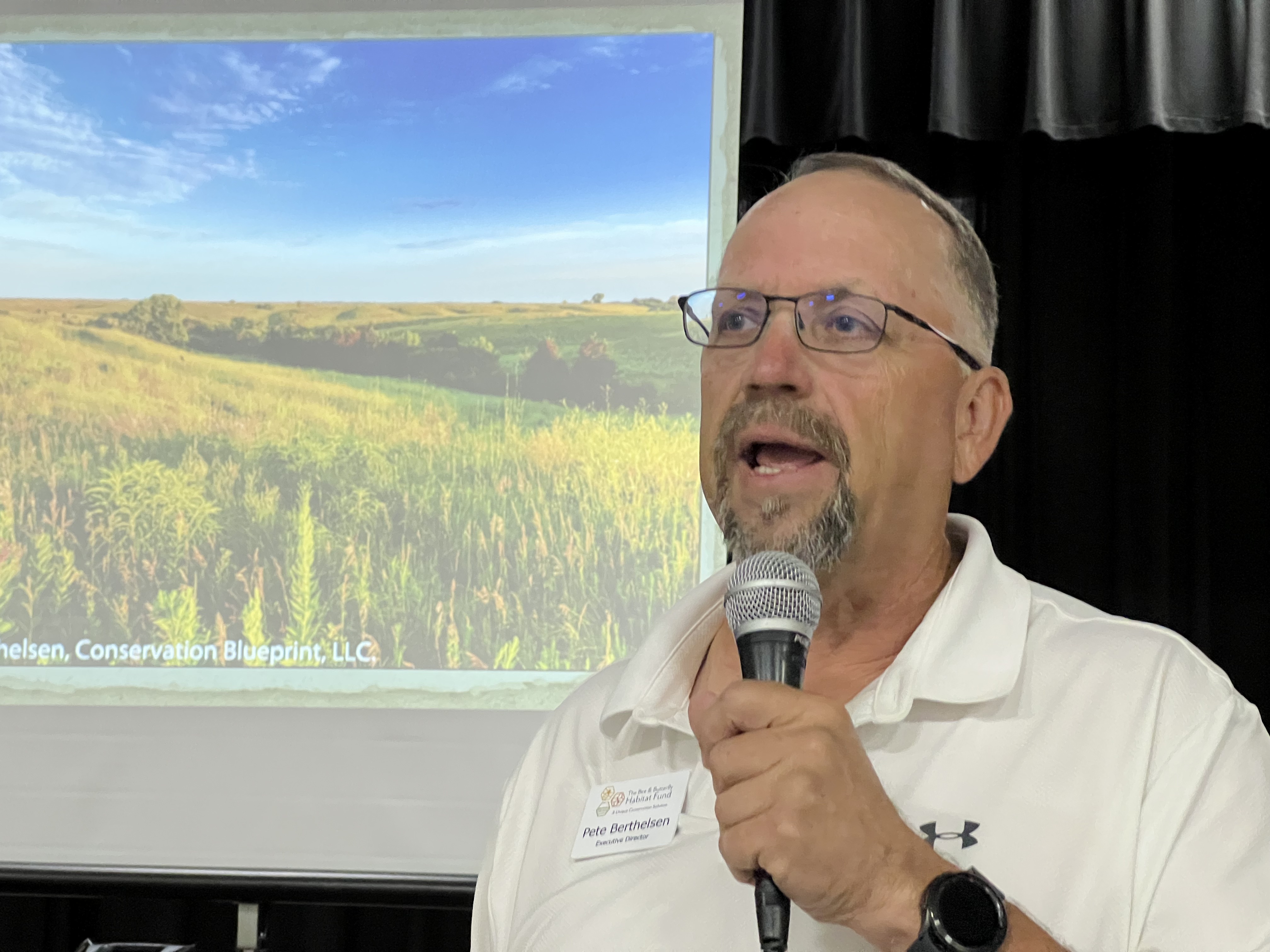 Pete Berthelsen presented a program on prairie restoration.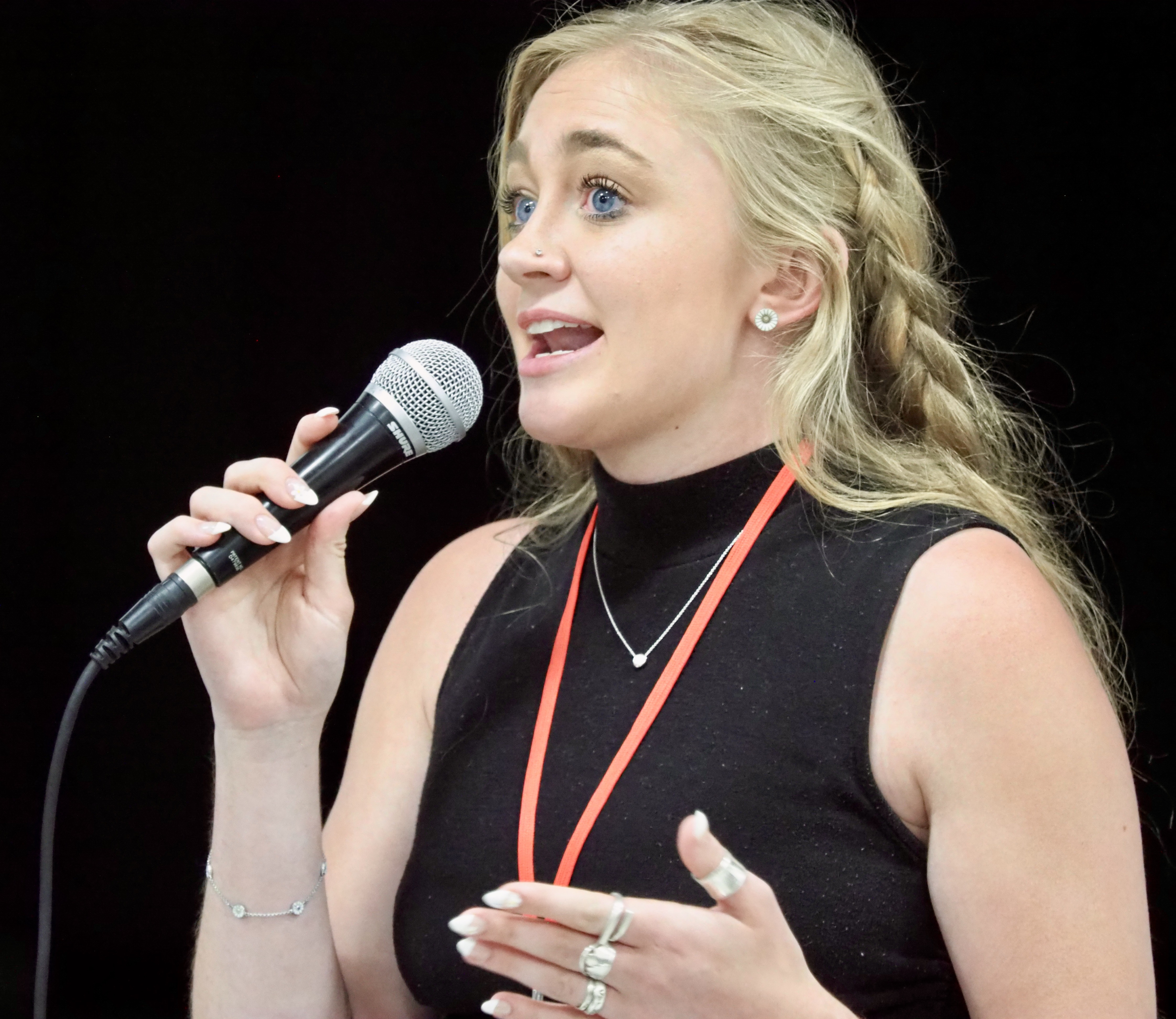 Charly Frisk showed her documentary film "FRØ: Nordic Seed Heroes."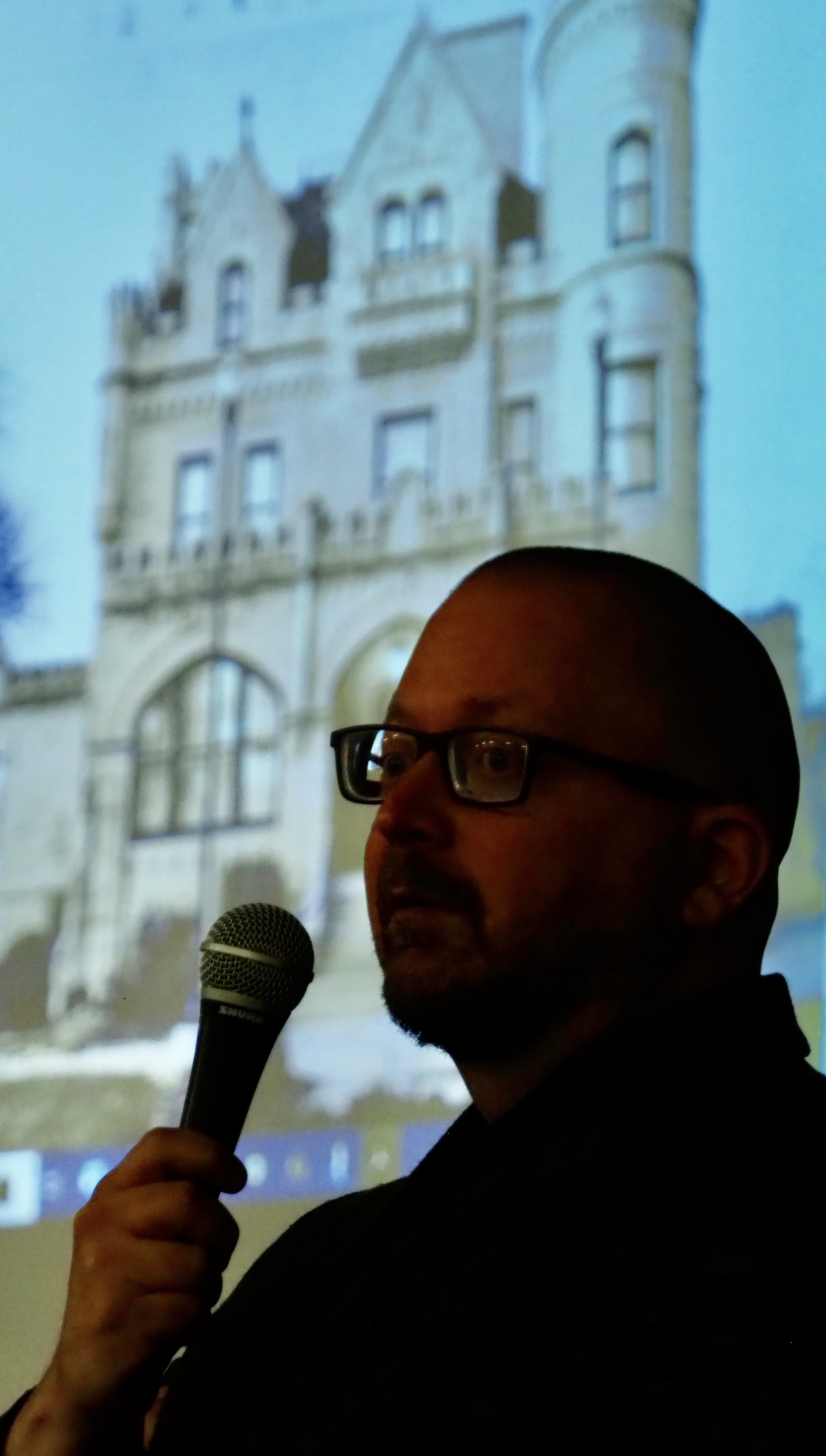 John Paul, of Joslyn Castle in Omaha, presented "Jens Jensen's Legacy at the Castle."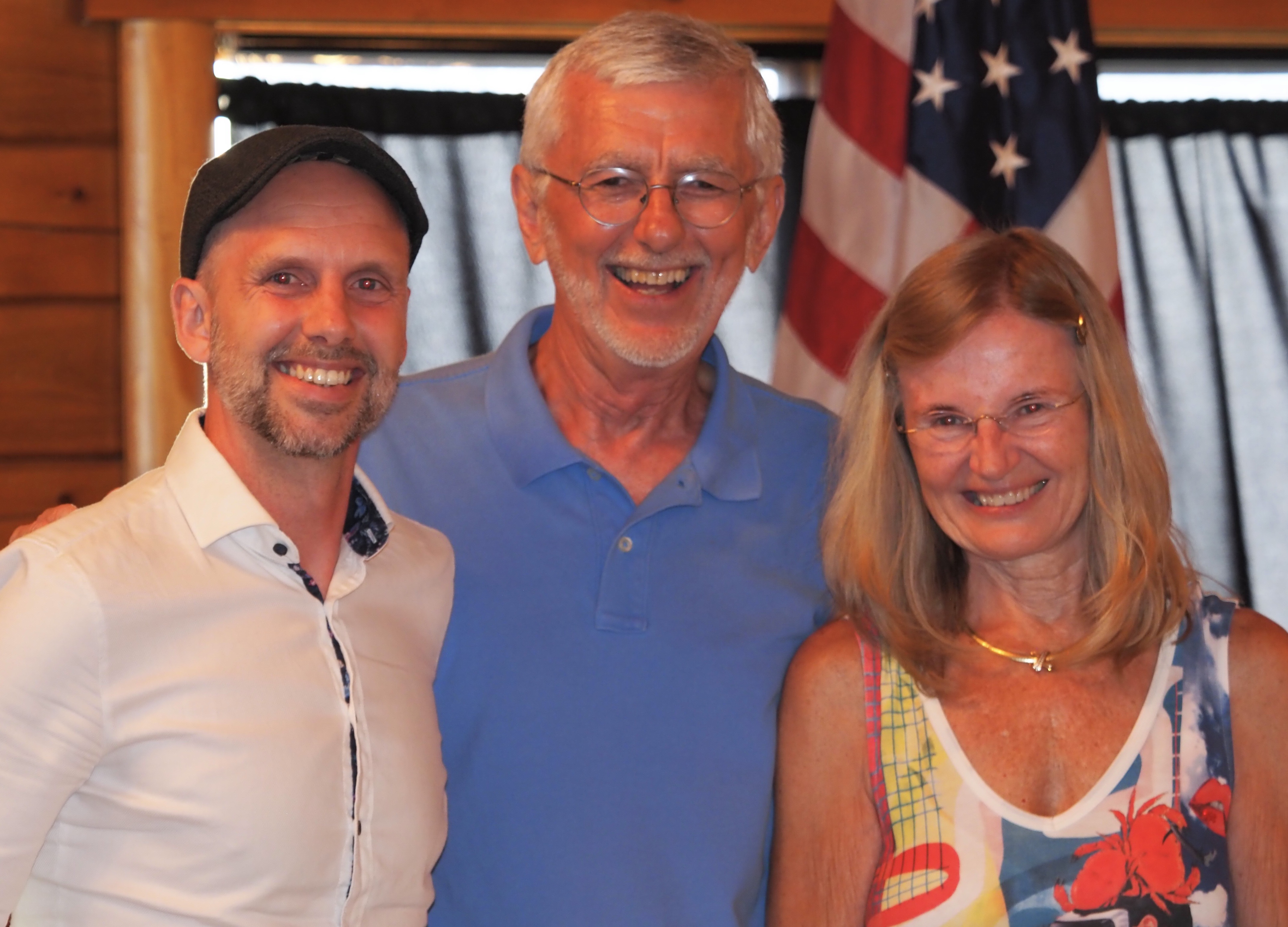 John Mark Nielsen and Nete Schmidt presented Anders Bo Rasmussen with the inaugural DAHS Book Award for his "Civil War Settlers: Scandinavians, Citizenship, and American Empire, 1848-1870."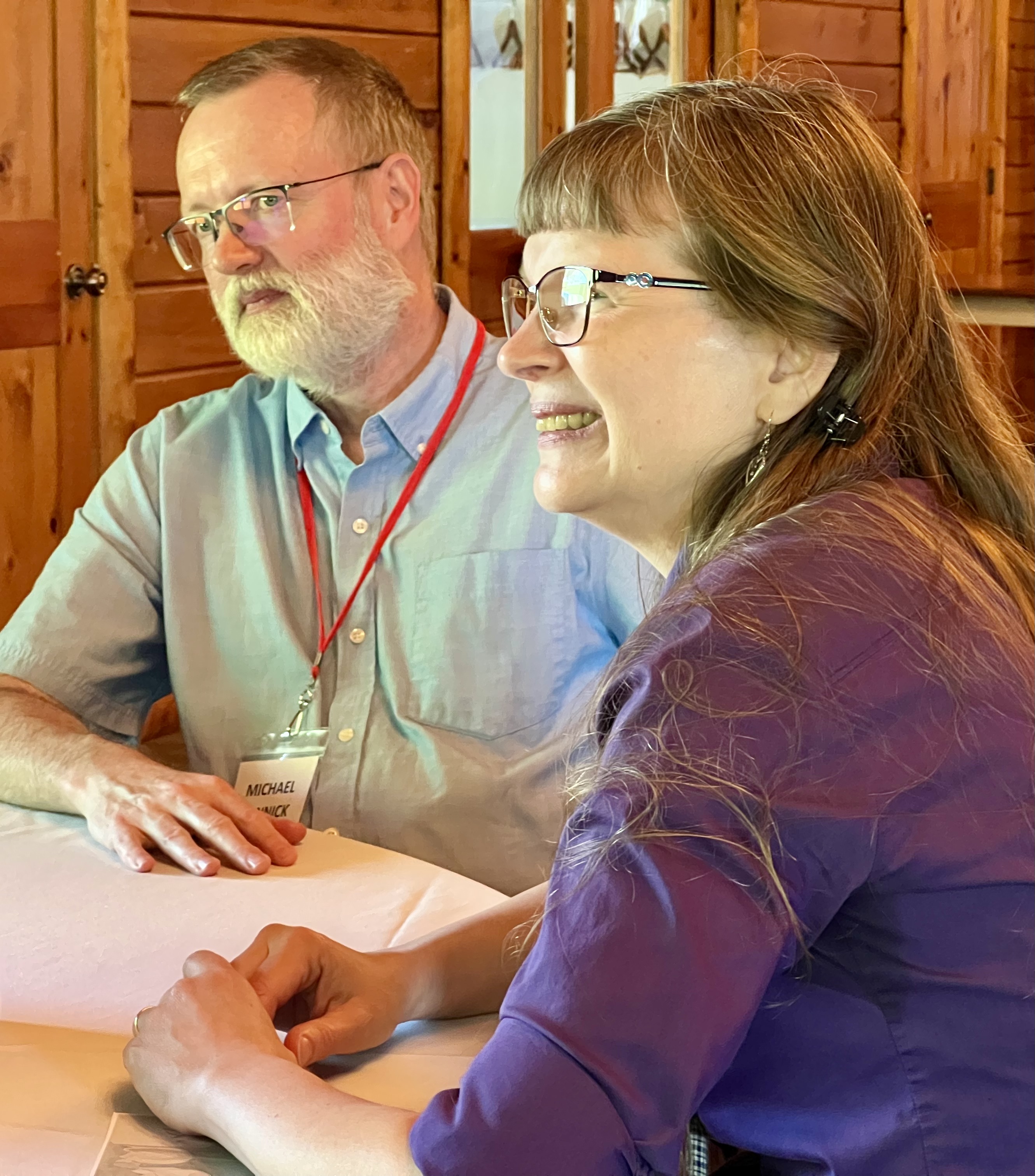 Michael and Jill Hennick of the Danish American Library & Archive.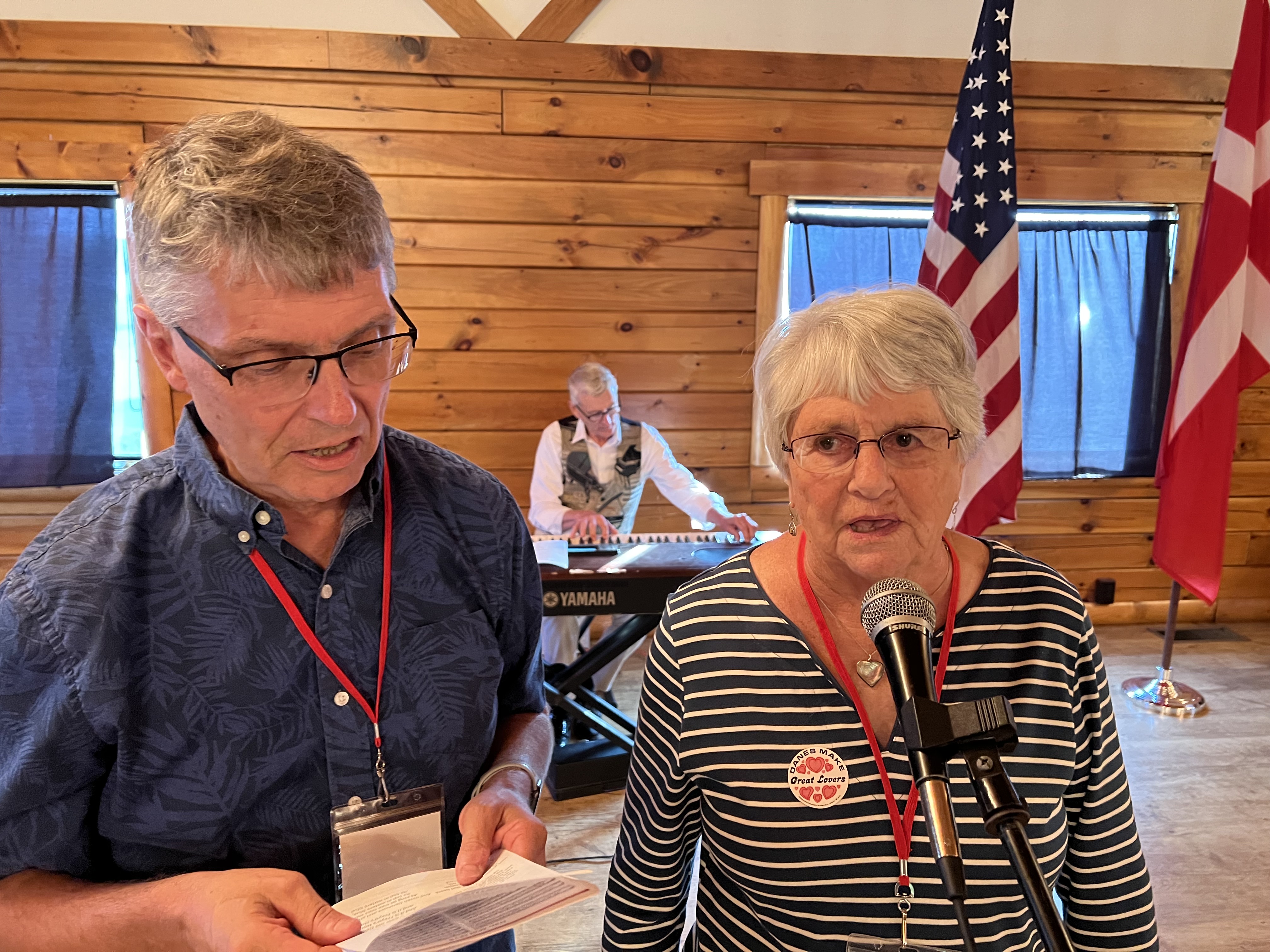 Tim Burchill, Annette Andersen and keyboardist Glenn Henricksen led group singing in Manning, Iowa, Friday evening.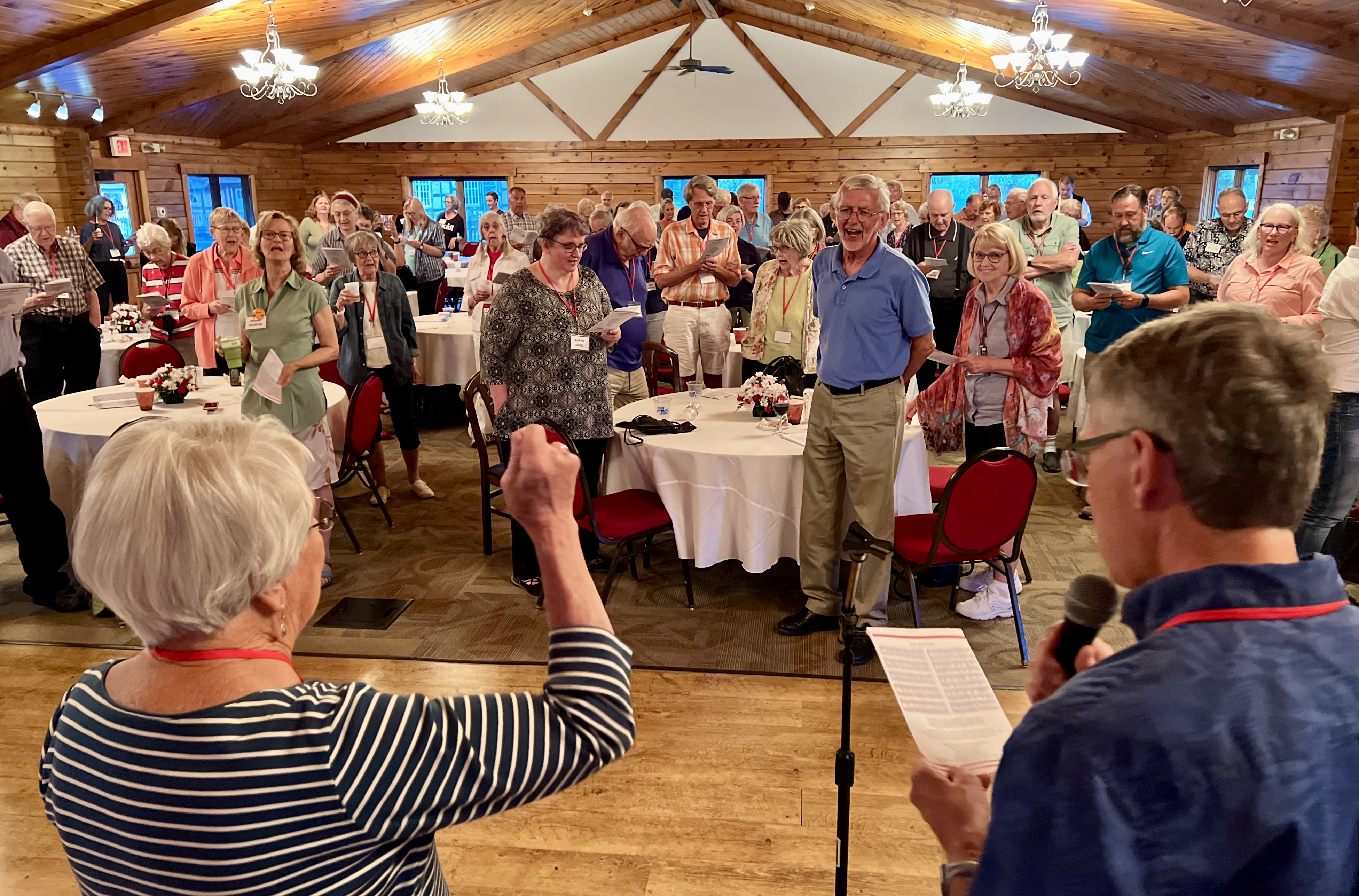 Everyone stands for the rousing rendition of "Han skal leve."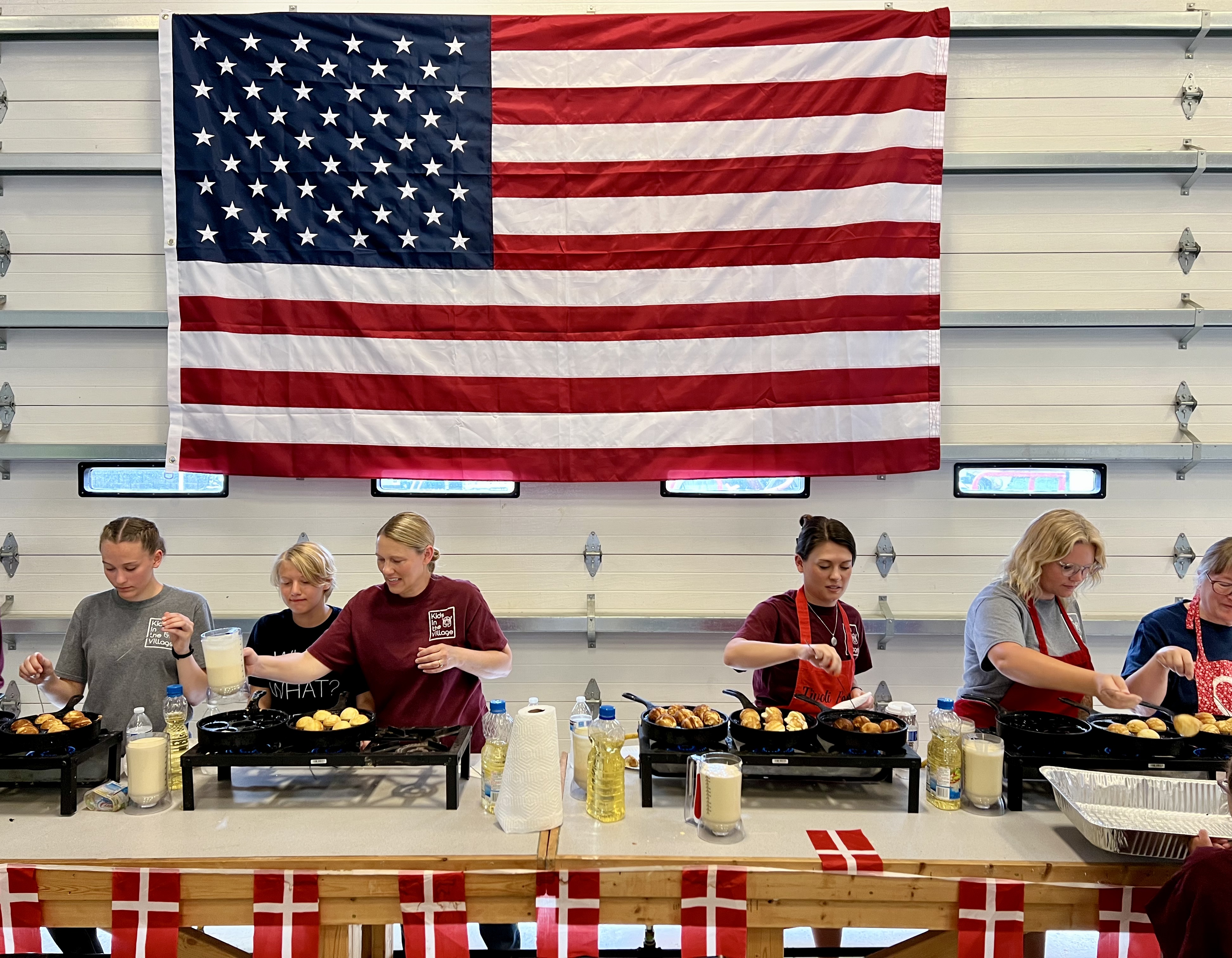 Saturday started with an æbleskiver breakfast at the Elk Horn fire hall.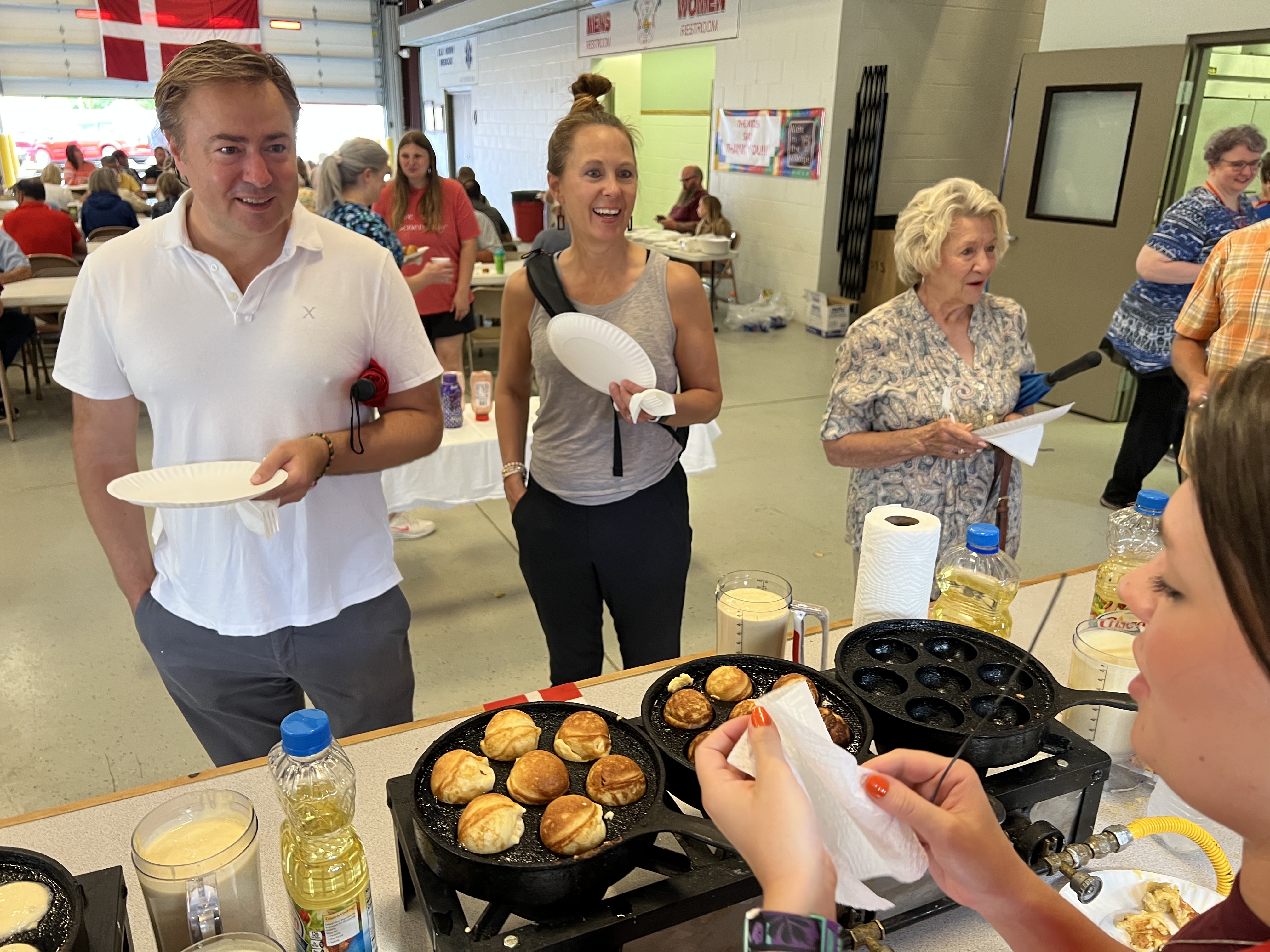 Anders Sand, a DAHS board member, lines up for æbleskiver.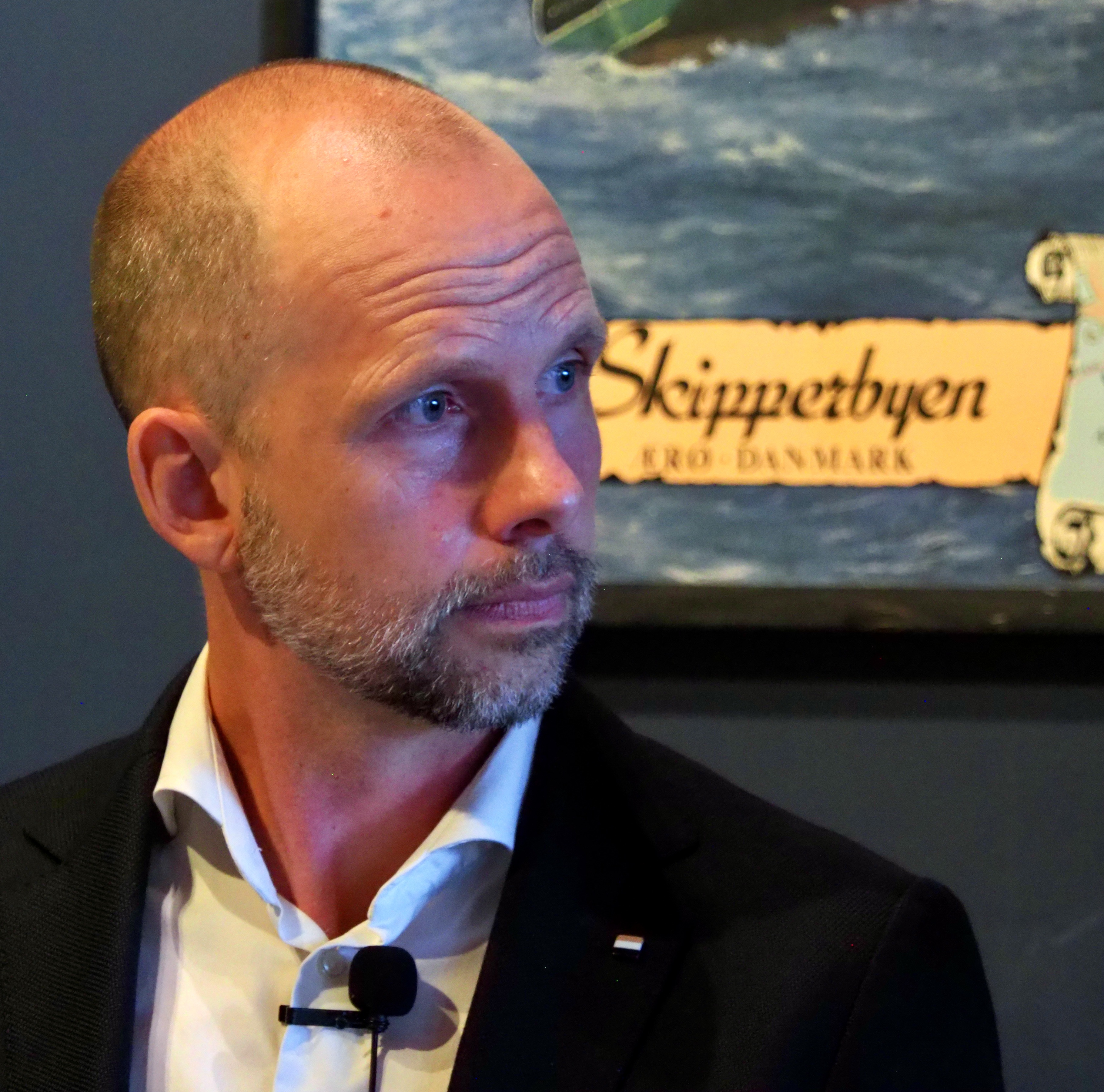 Prize-winning author Anders Bo Rasmussen was featured in a panel discussion Saturday at MoDA. He is an associate professor at the Center for American Studies at the University of Southern Denmark.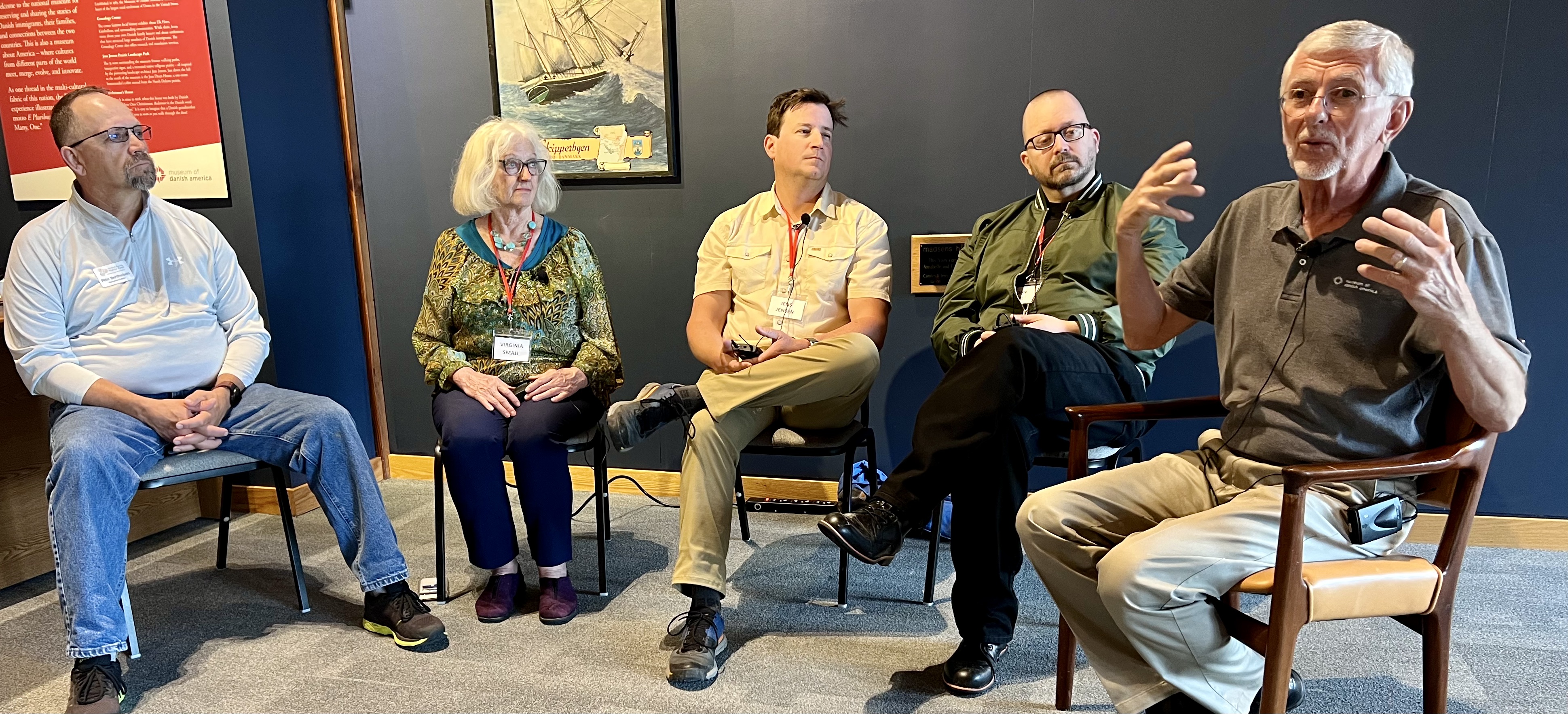 Panelists for "The Jens Jensen Legacy: Danish and Danish-American Perspectives on Nature Conservation" were Pete Berthelsen, left, Virginia Small, Jens Jensen, John Paul and John Mark Nielsen.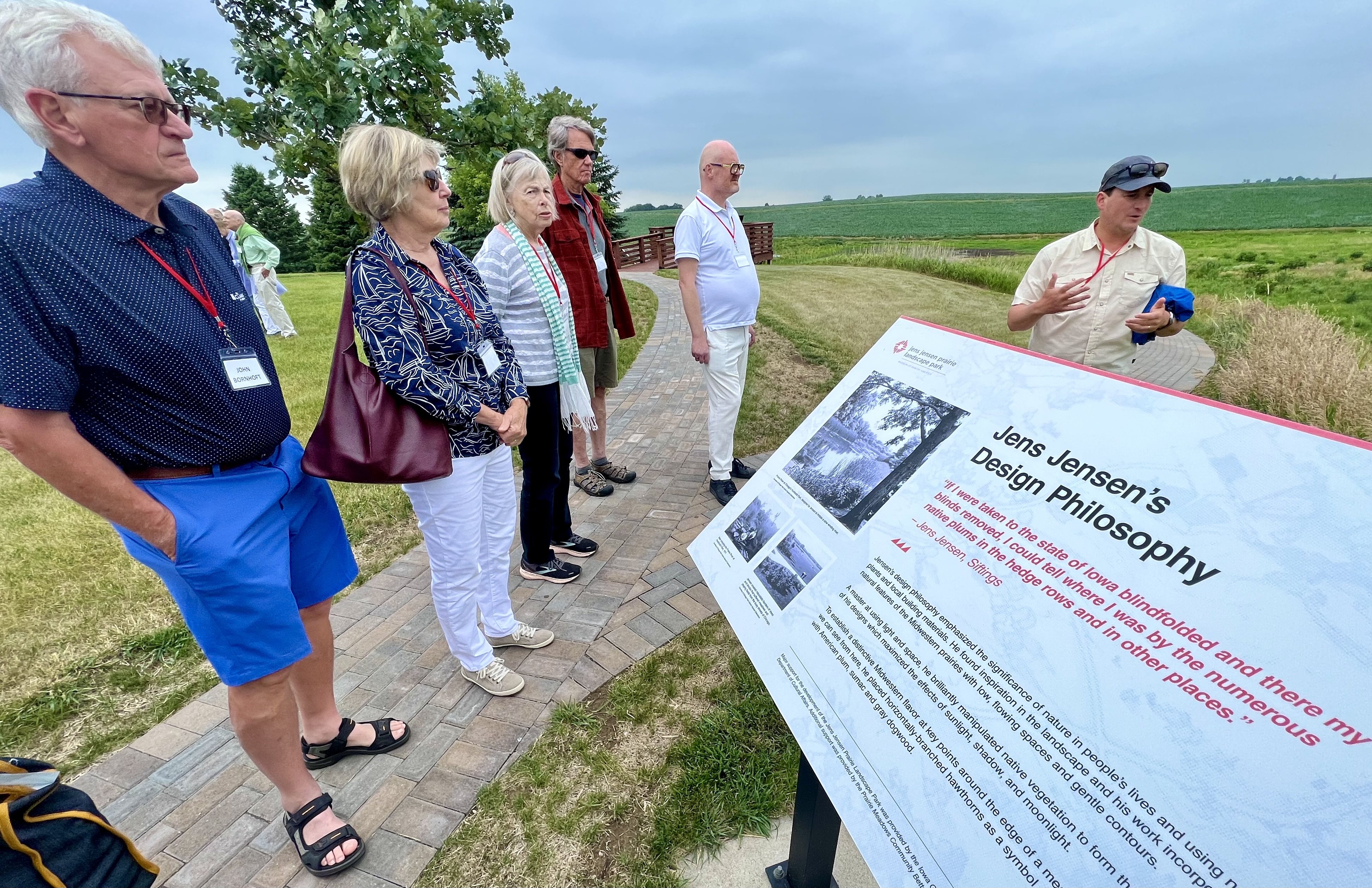 Jens Jensen, a great-great-grandson and namesake of the famed Danish-immigrant landscape architect, leads a walking tour of the 30-acre Jens Jensen Prairie Landscape Park at MoDA.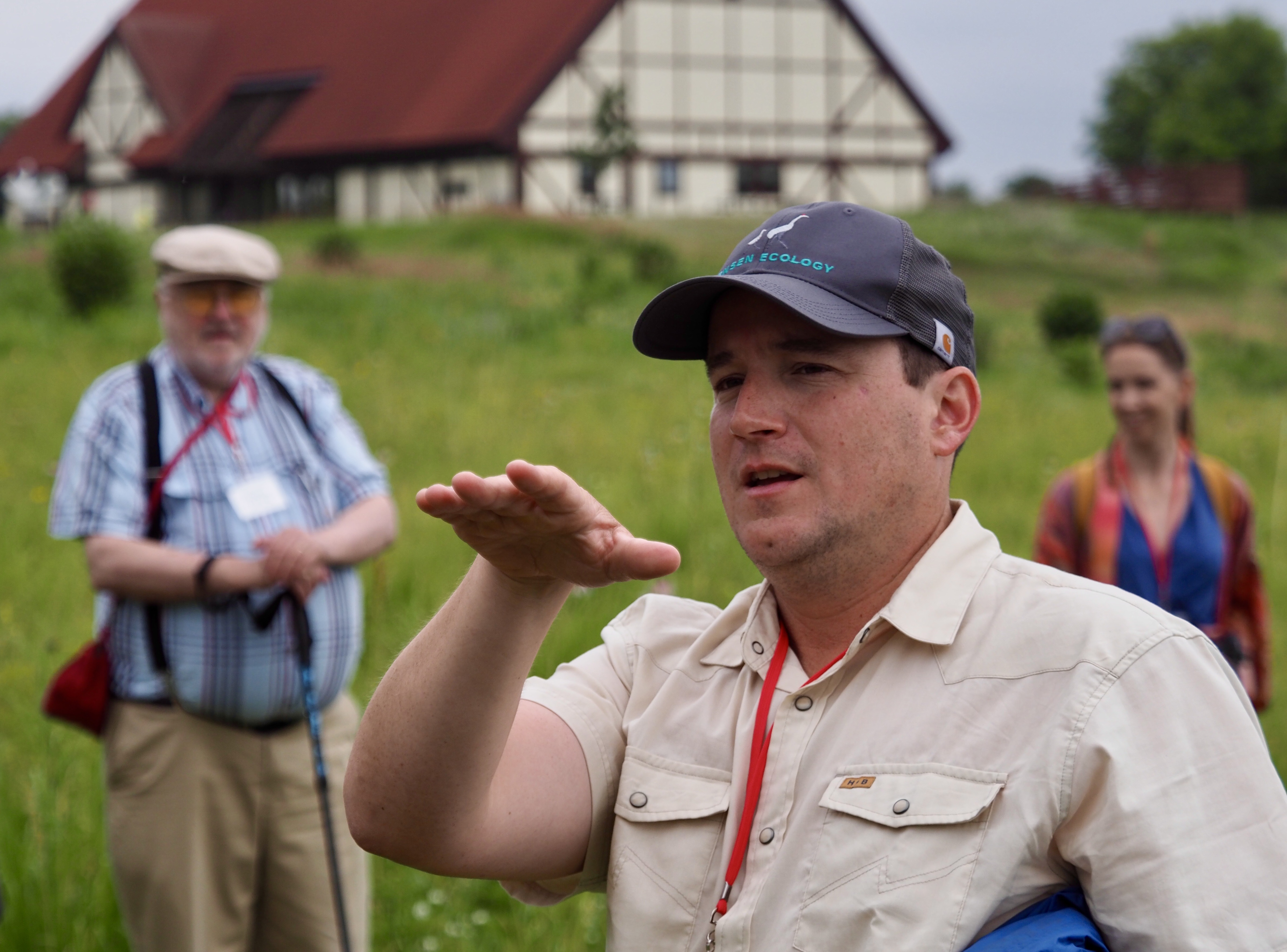 Jens Jensen leads prairie walking tour.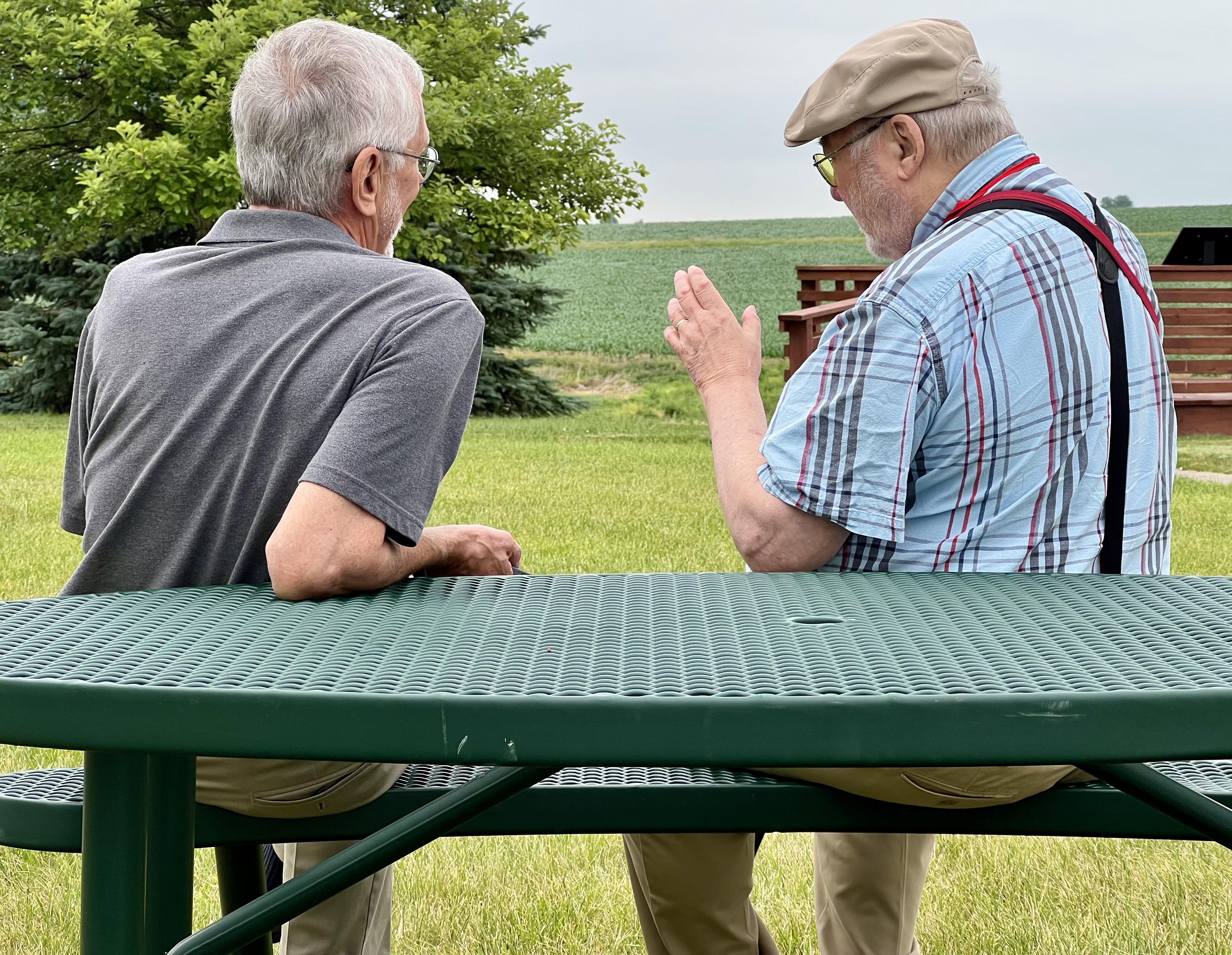 John Mark Nielsen and Dennis Larson were founding leaders of the Danish Immigrant Museum, now Museum of Danish America.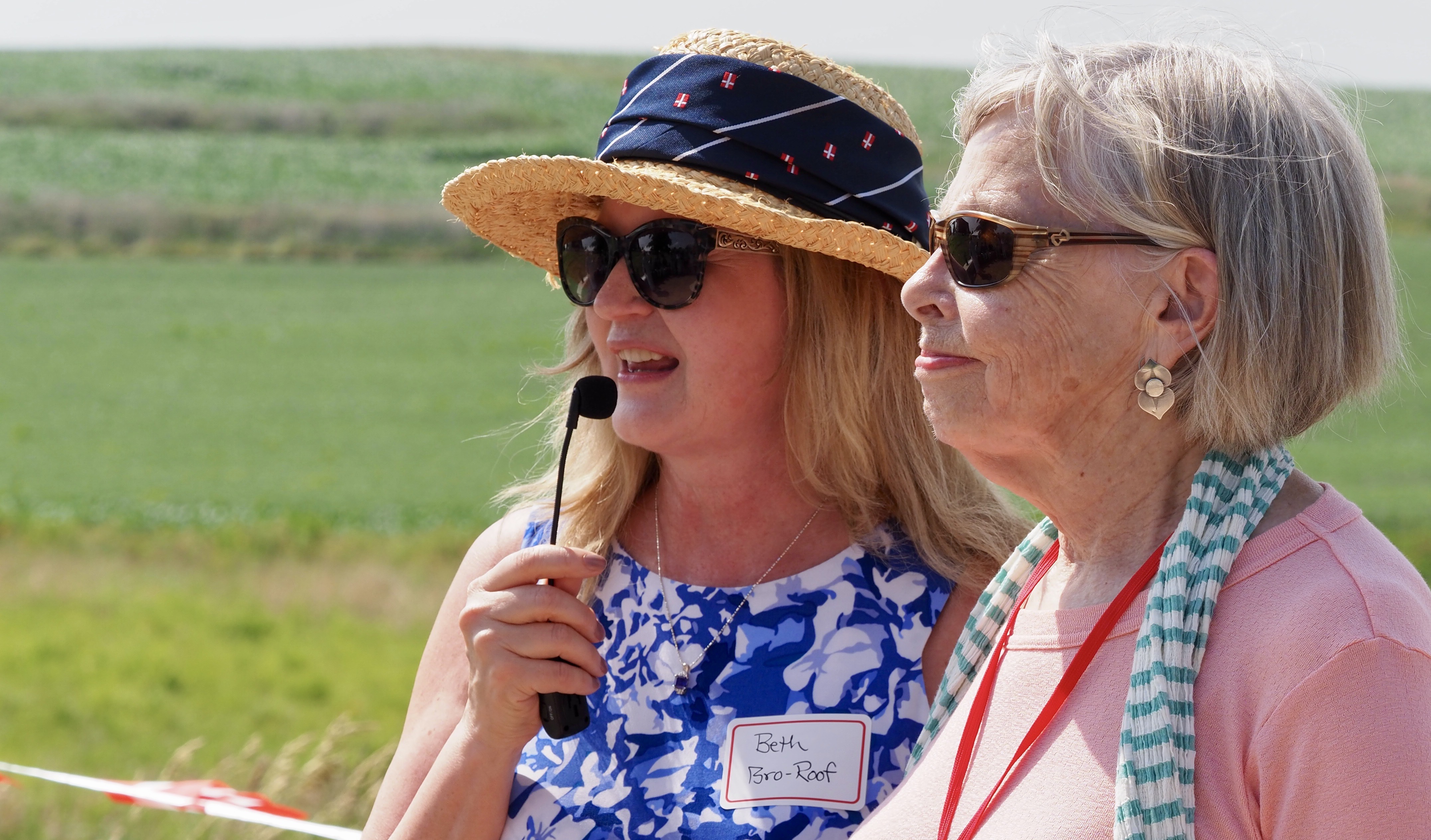 Beth Bro-Roof and Carol Svendsen led a reunion of former and current MoDA board members in the Hansen Council Ring.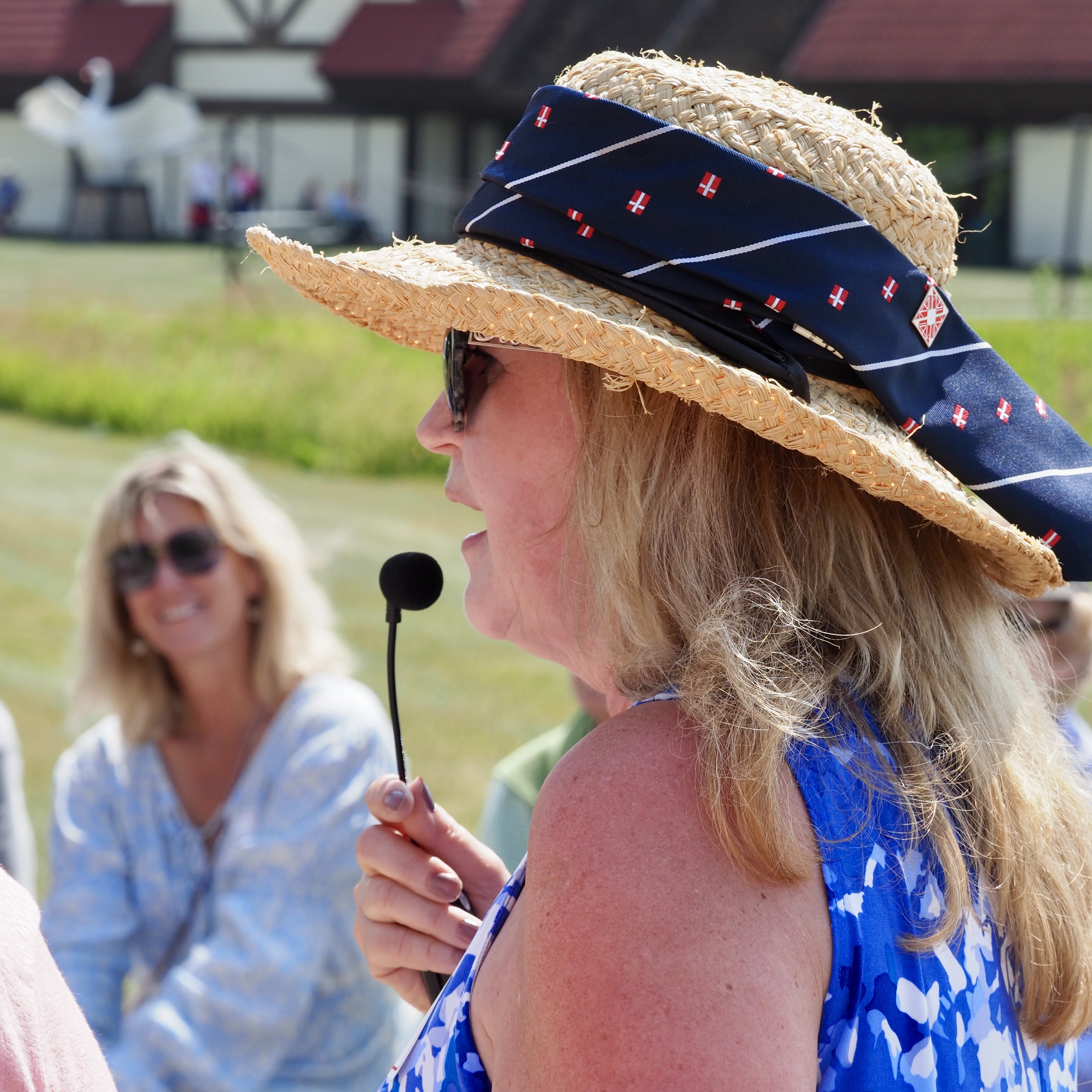 Beth Bro-Roof addresses gathering of former and current MoDA board members.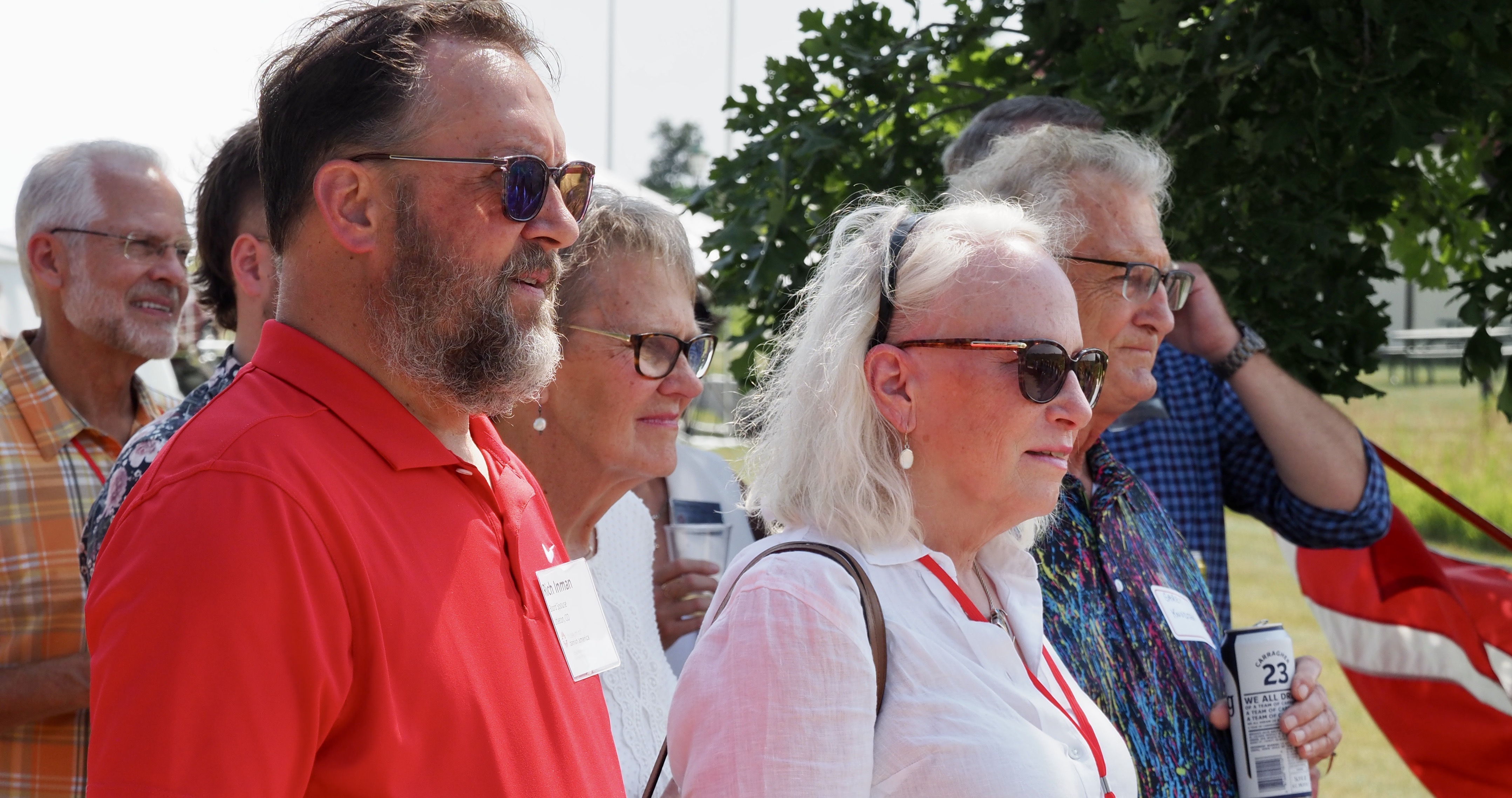 Carl Steffensen, left, Rich Inman, Sherry Knudsen, Mindy Brown and Garey Knudsen.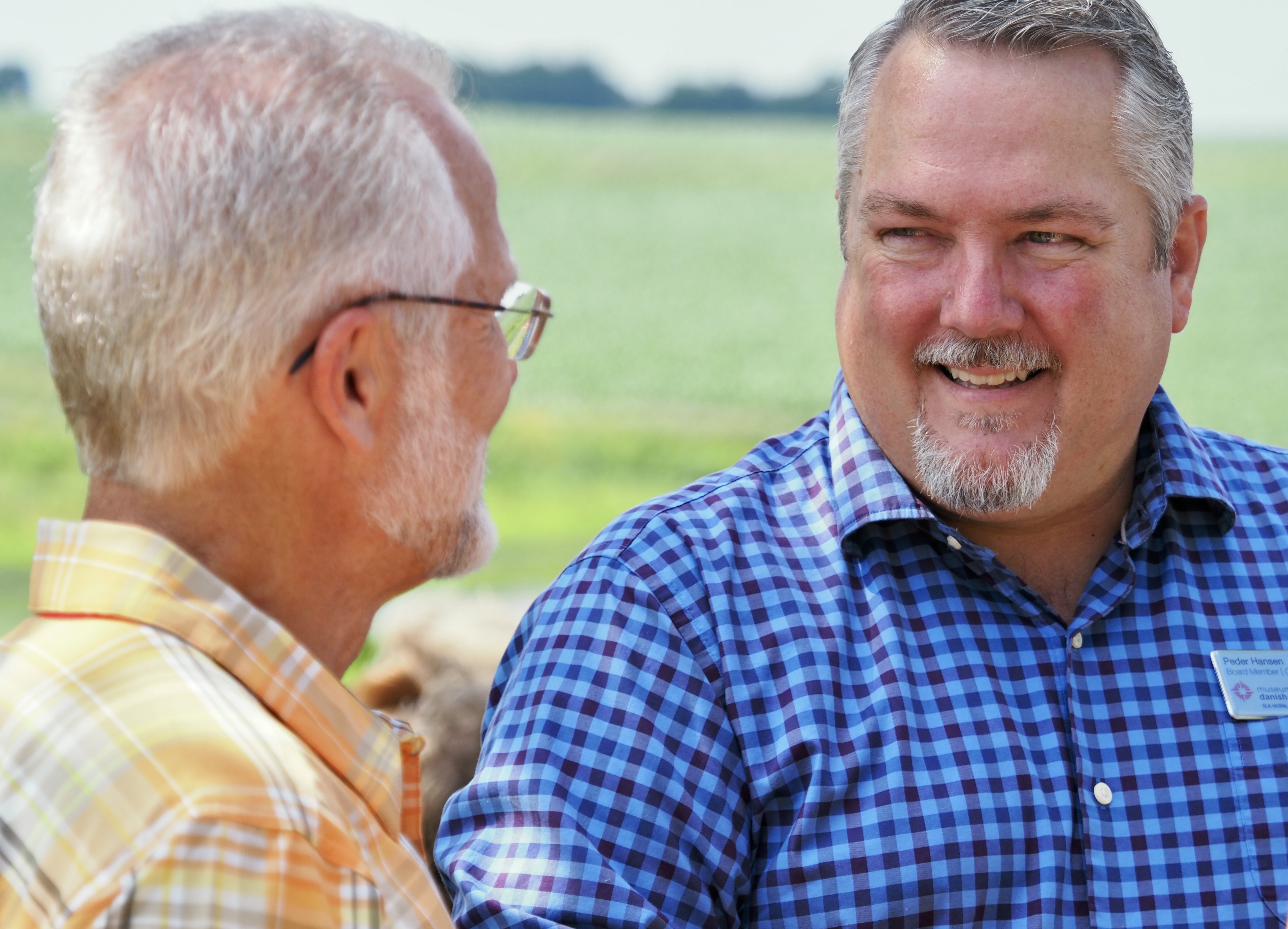 Carl Steffensen and Peder Hansen.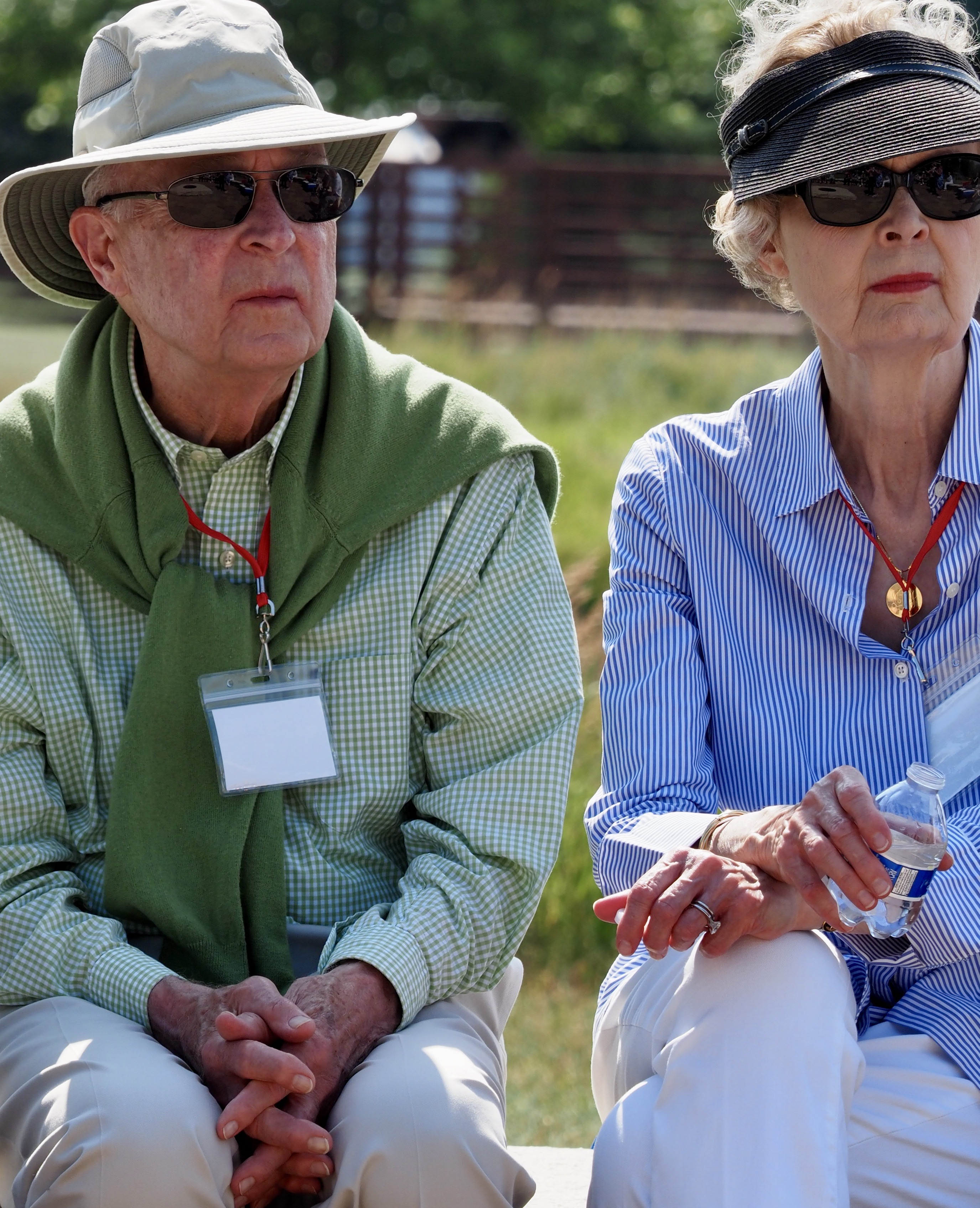 Lowell and Marilyn Kramme.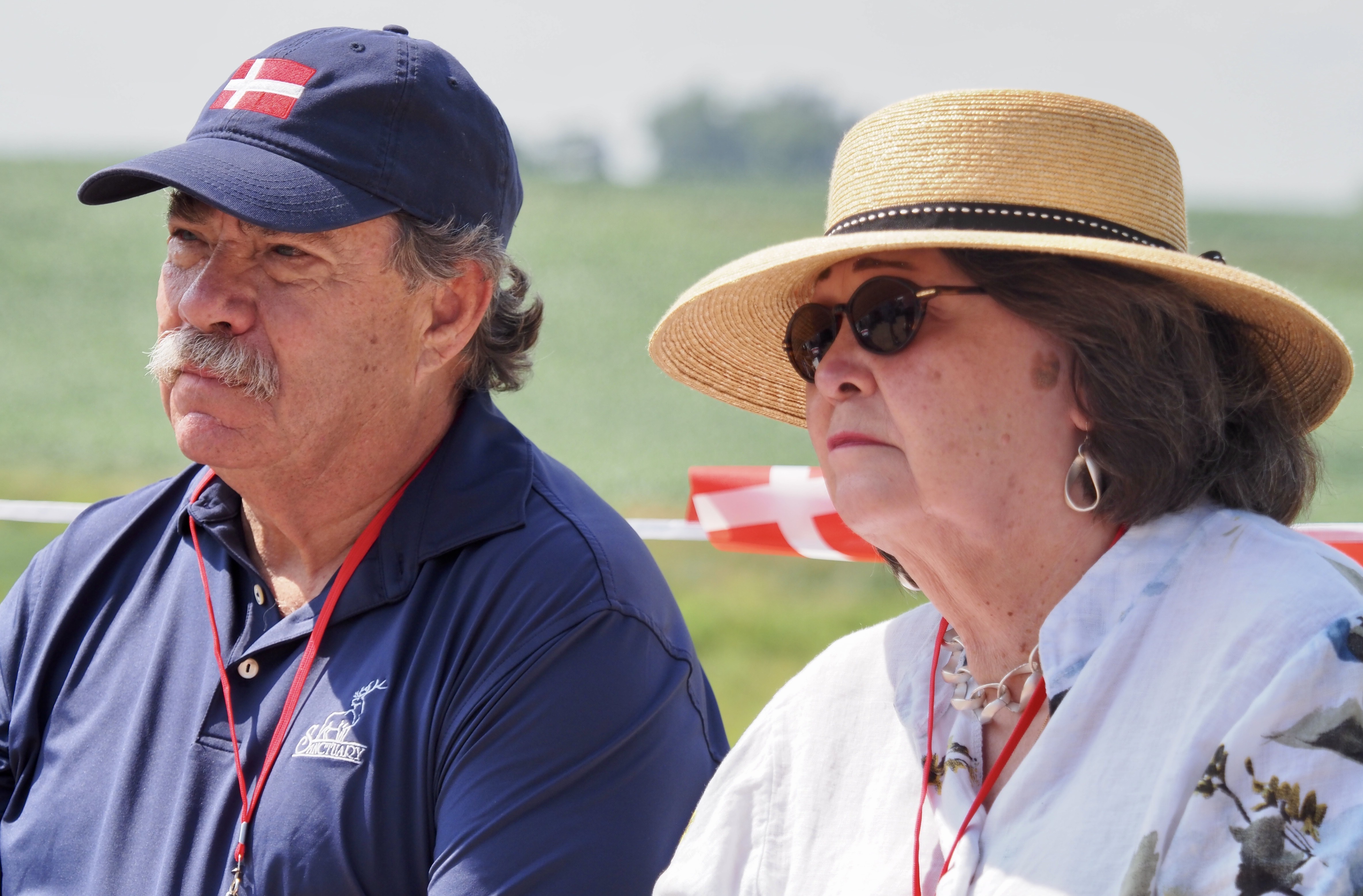 Gary and Cindy Adams.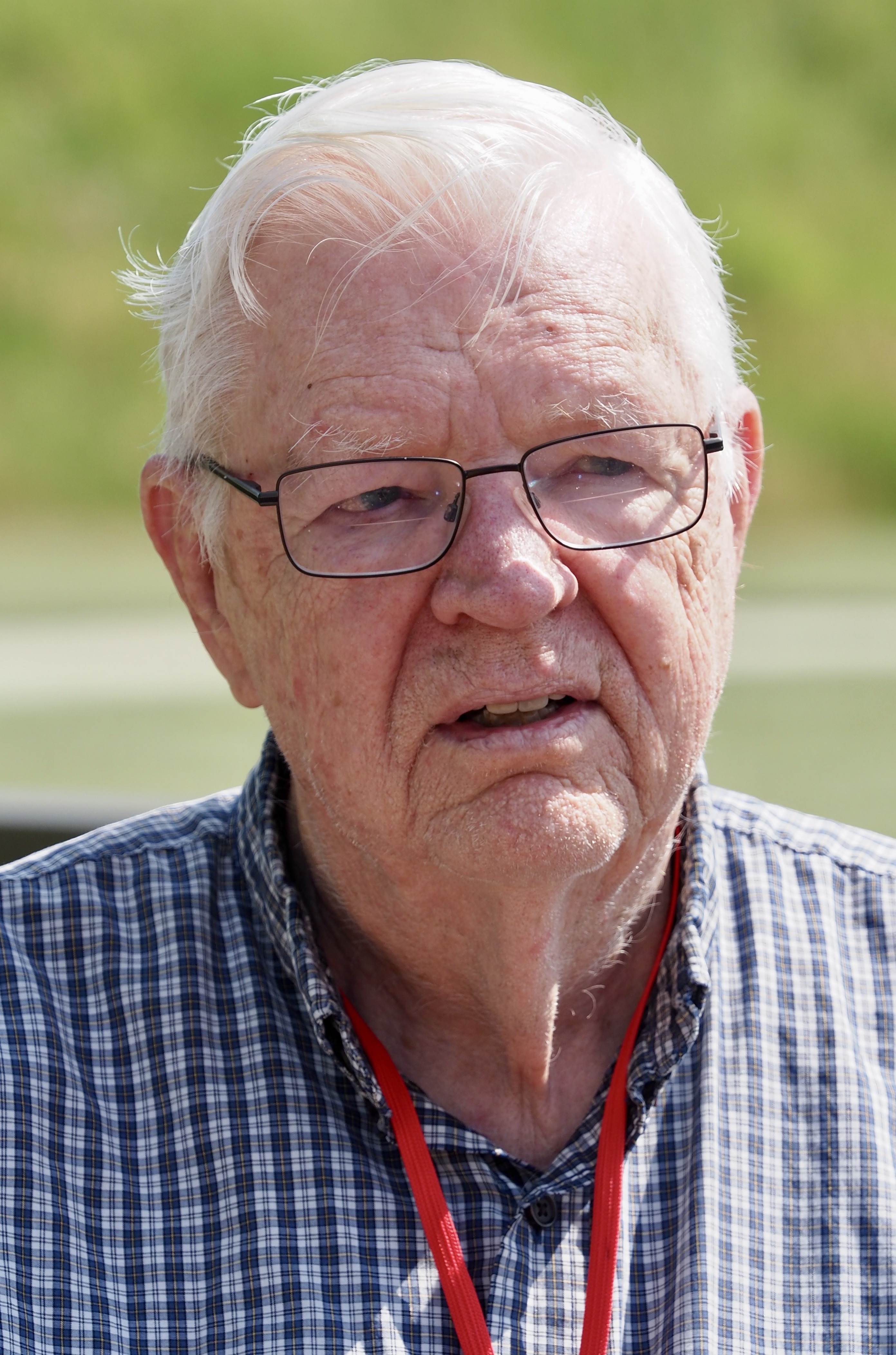 Jim Iversen.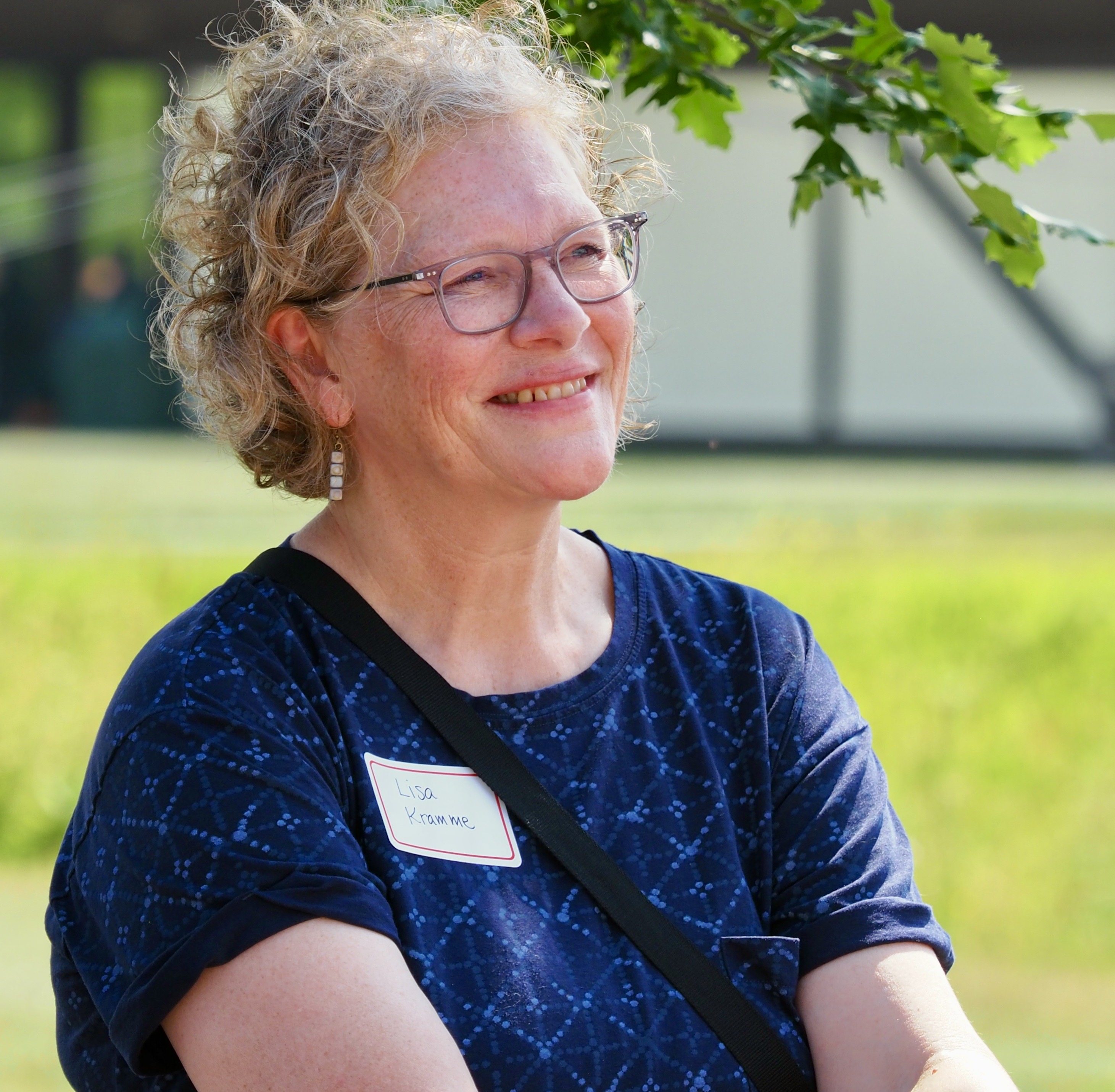 Lisa Kramme.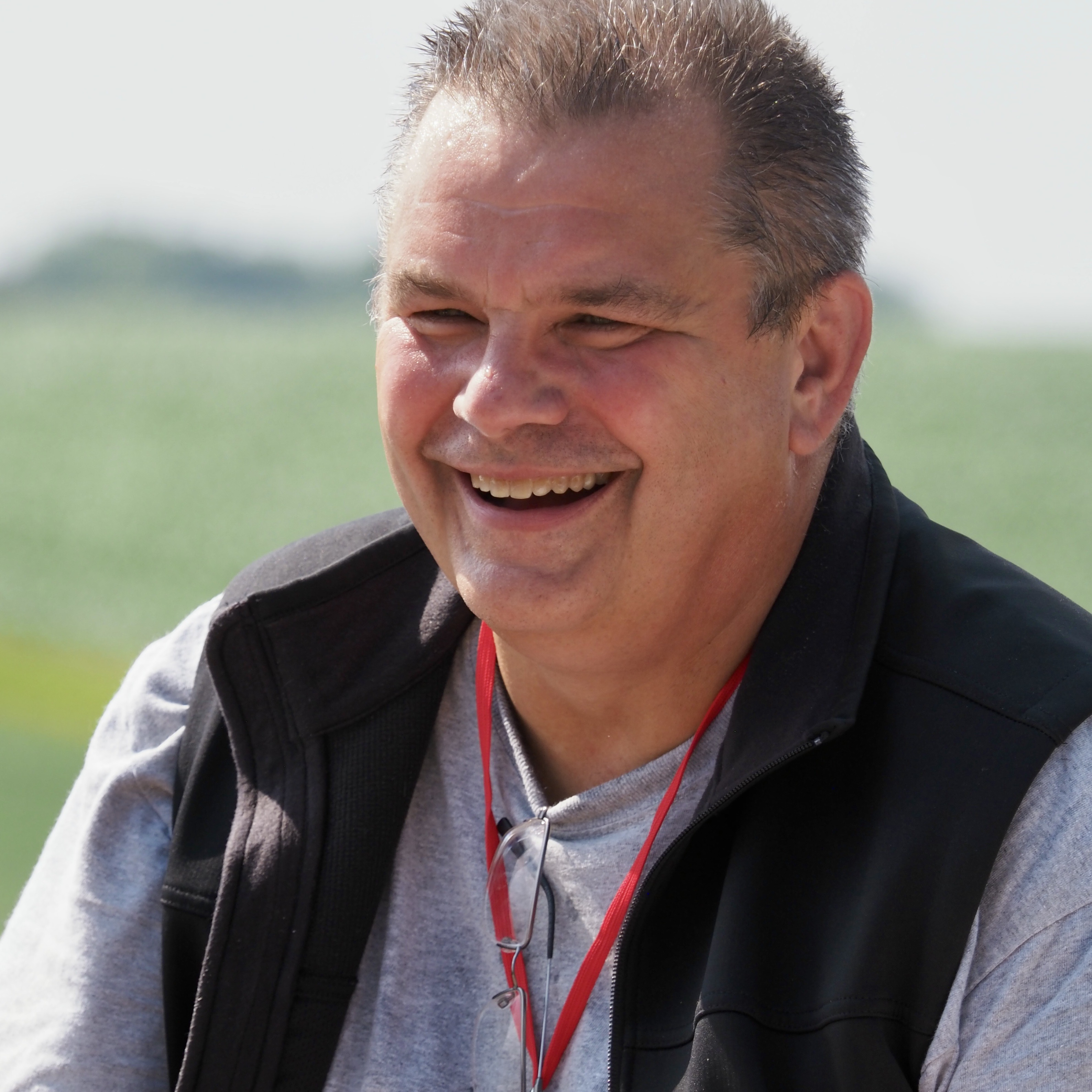 Erik Andersen.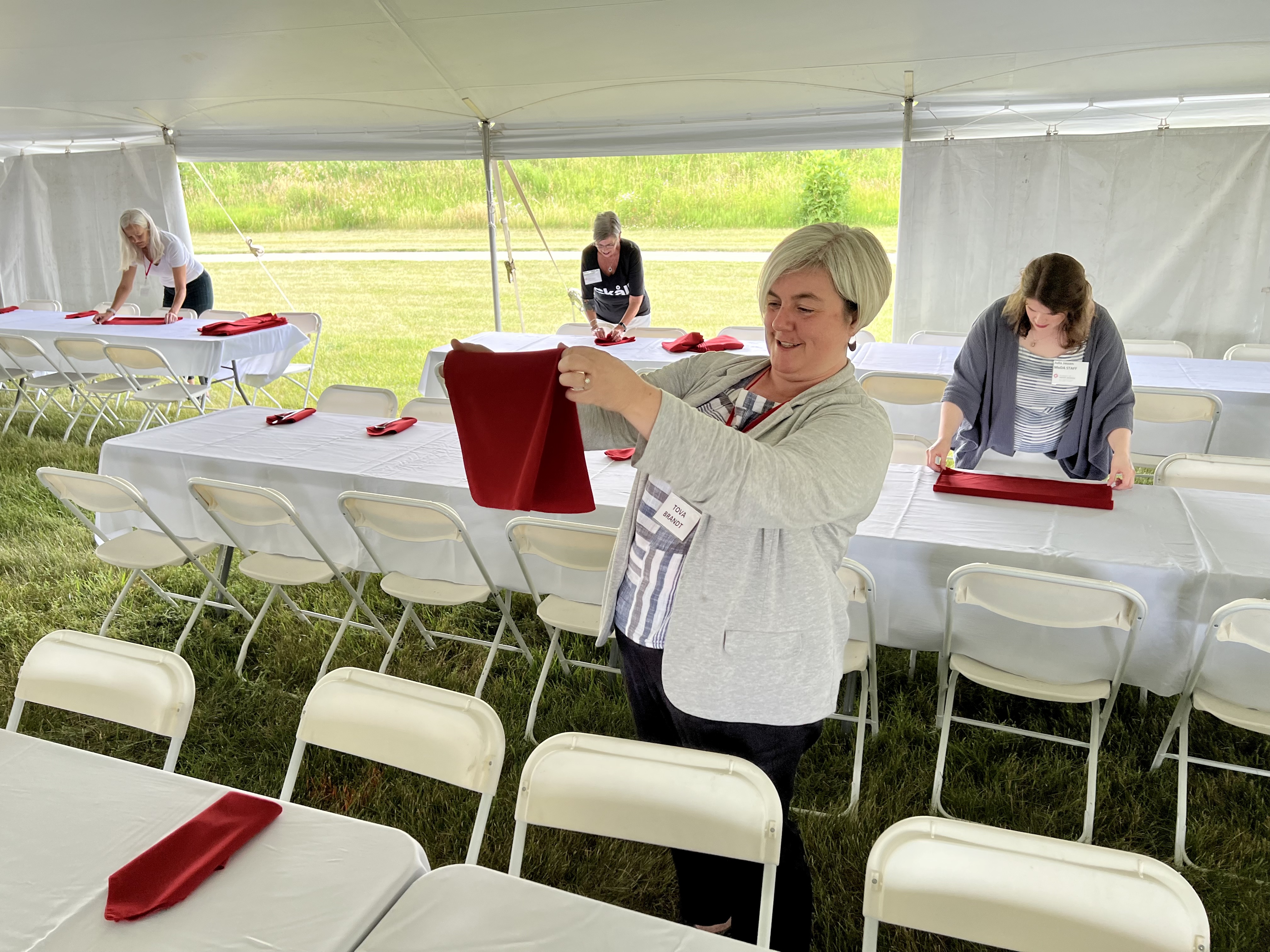 Tova Brandt folds napkins preparing for Saturday's 40th anniversary dinner.

MoDA's 40th anniversary dinner was catered under a sprawling tent.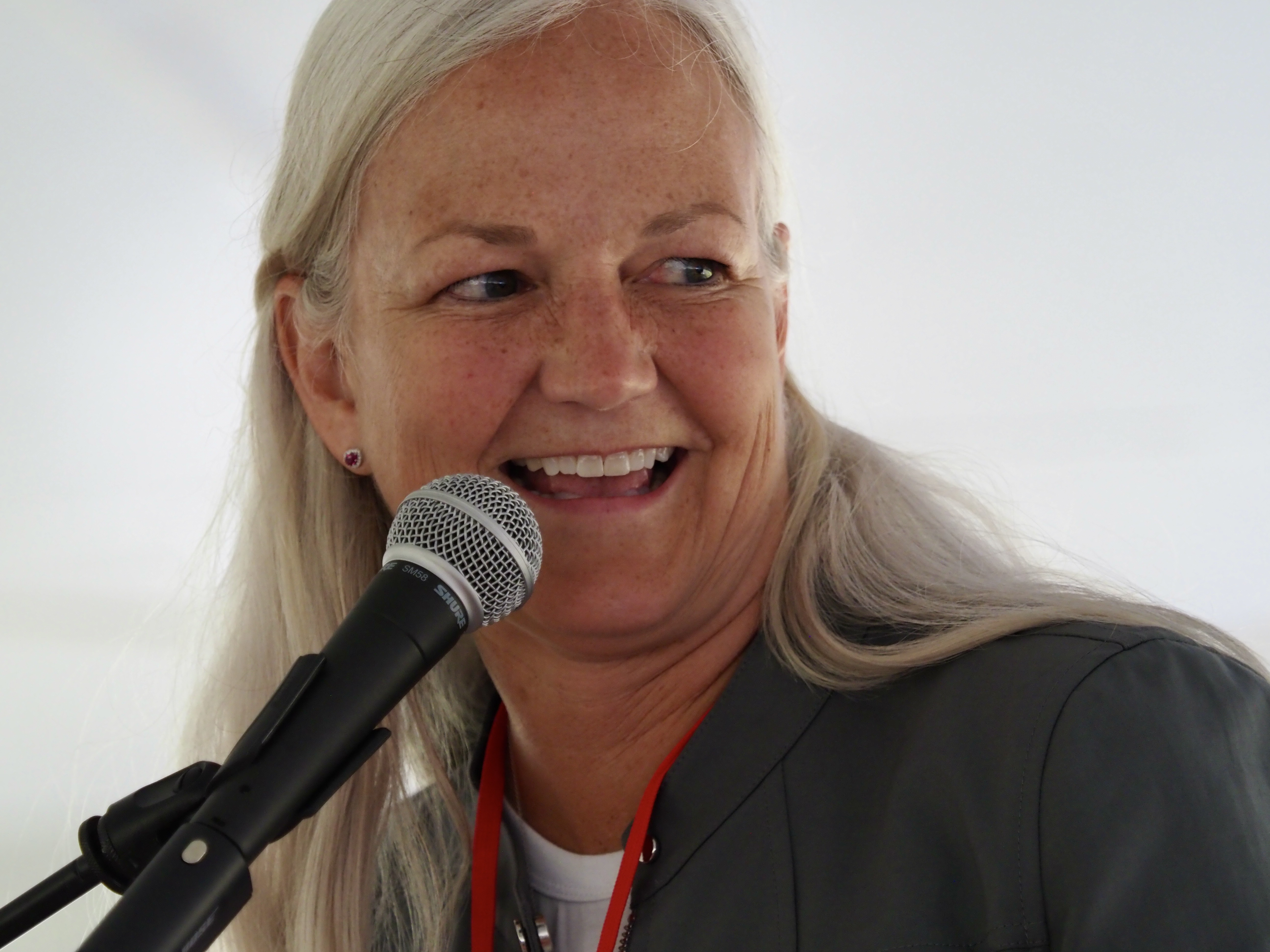 Toni McLeod Battaglia, president of the MoDA board, was emcee for the anniversary dinner.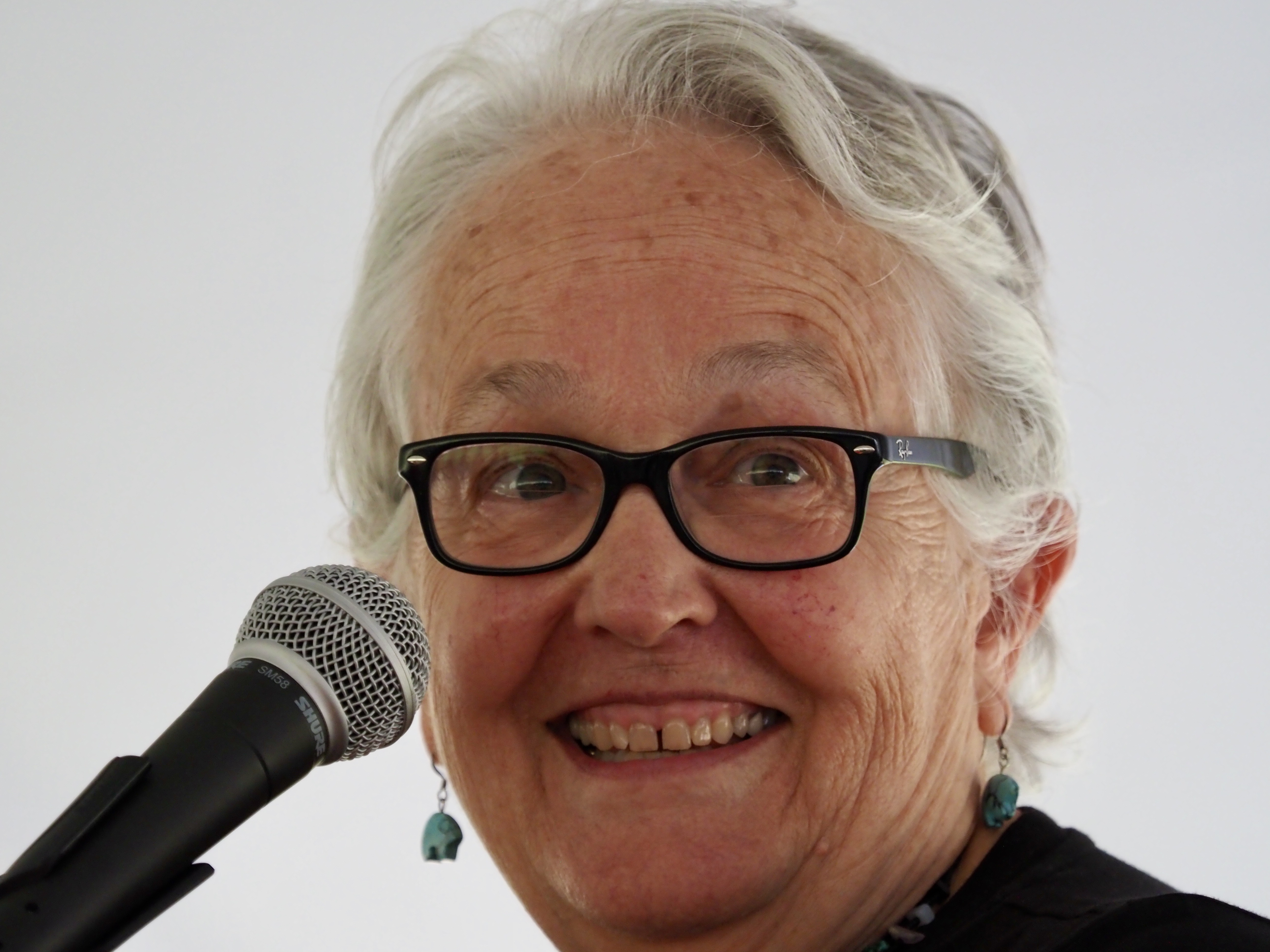 Anna Redsand provided words of gratitude for the anniversary dinner.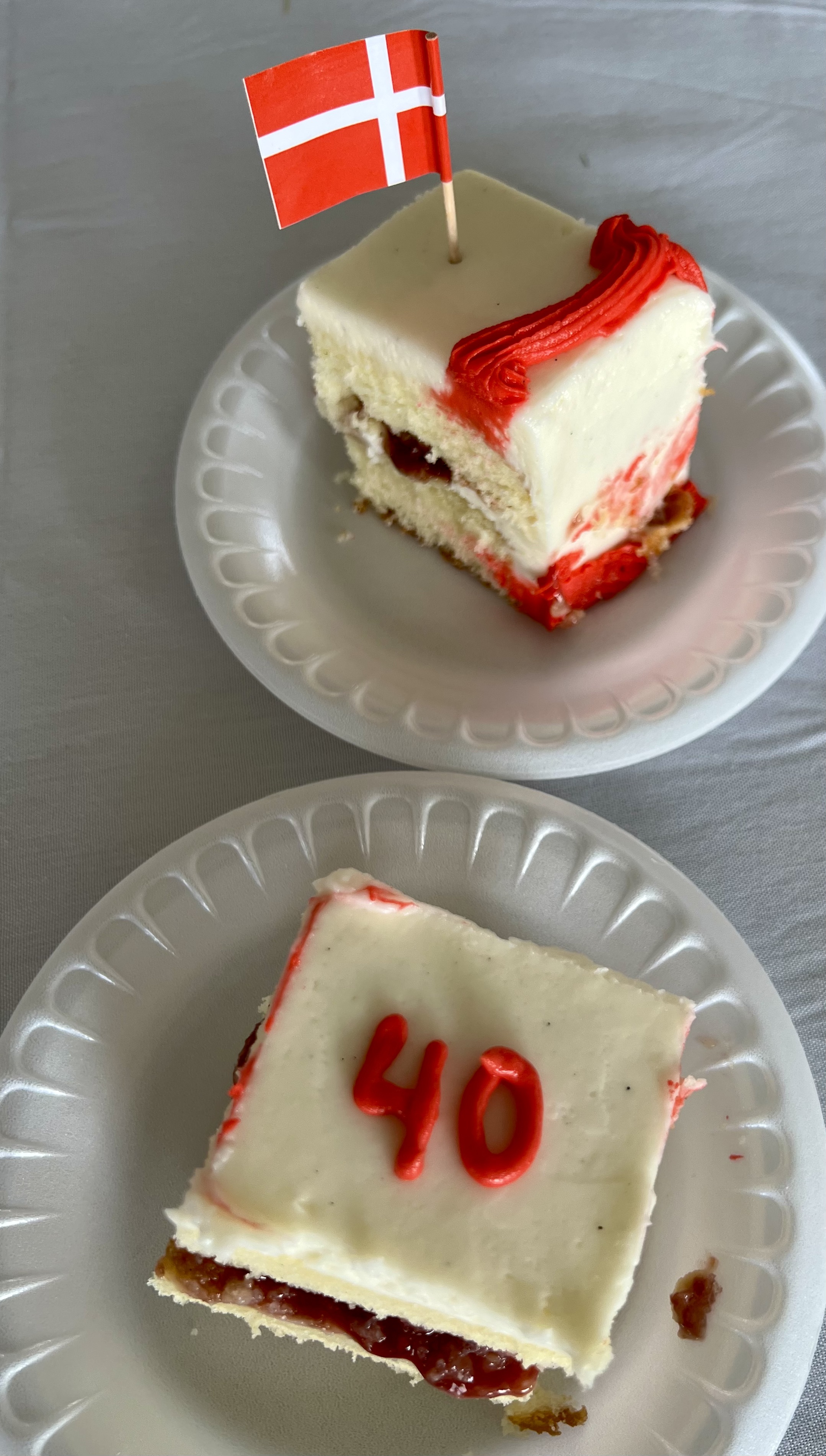 40th anniversary cake.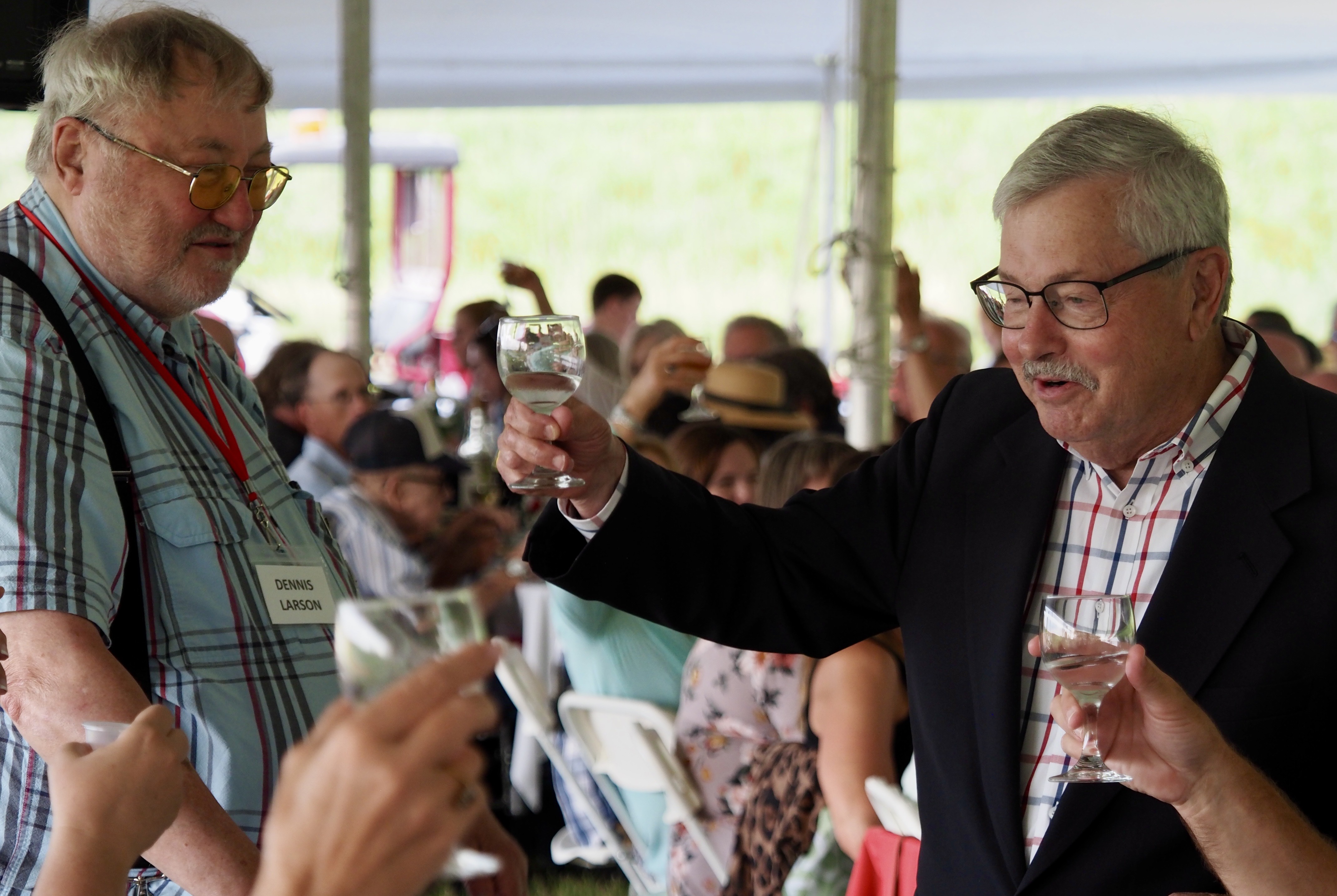 Former Iowa Gov. Terry Branstad toasts MoDA on its 40th anniversary.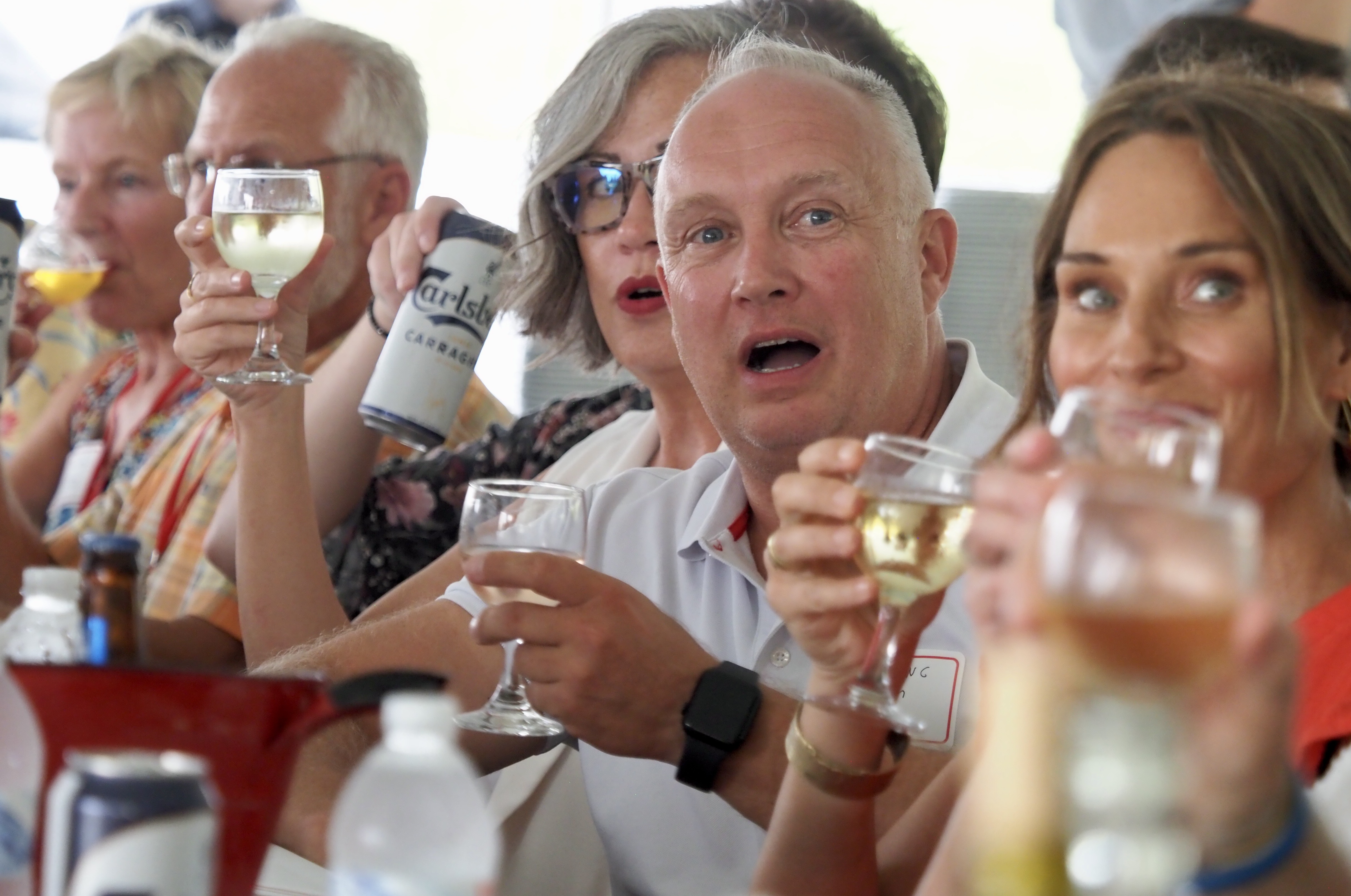 Toasting MoDA.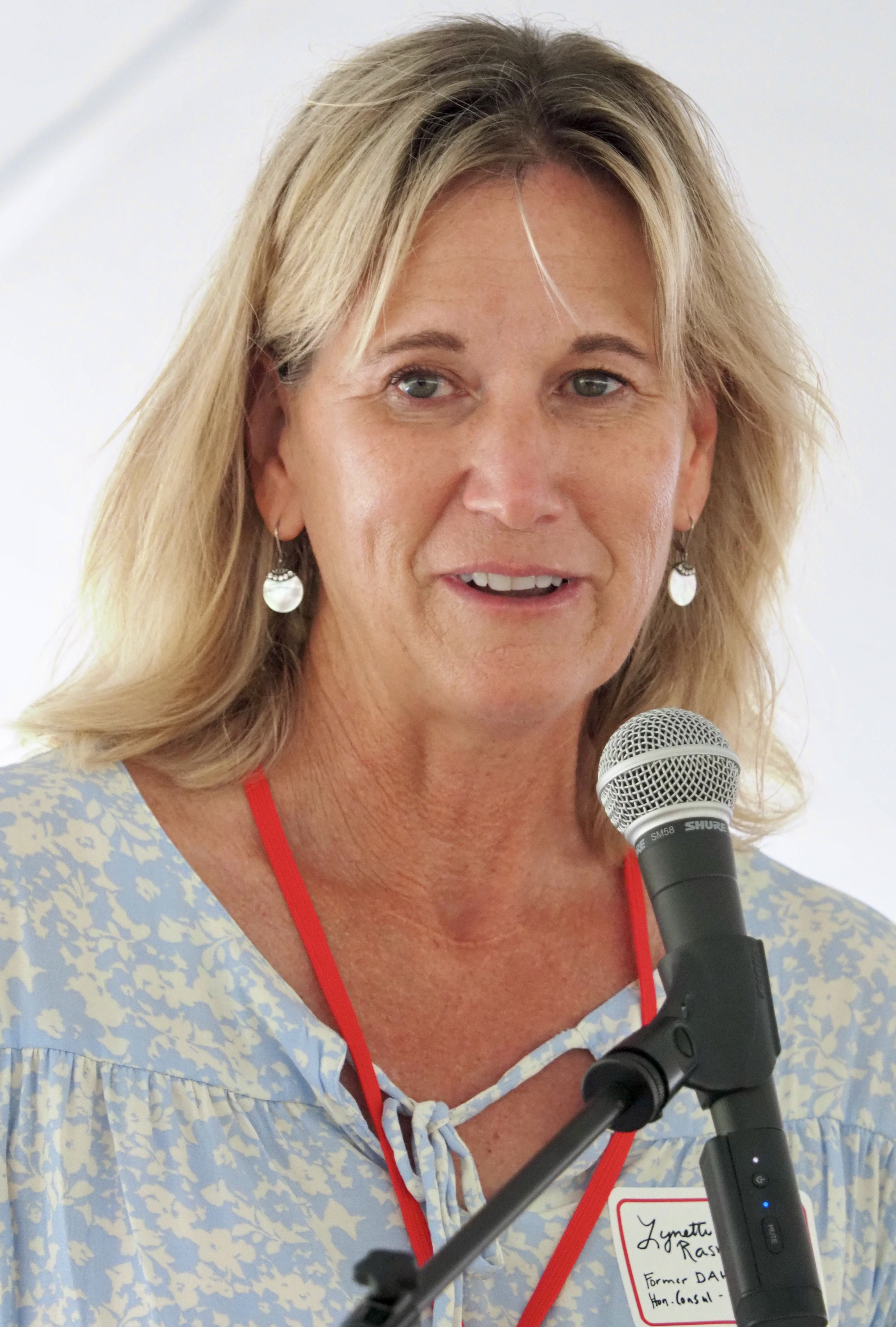 Lynette Rasmussen, Danish honorary consul for Iowa and a former MoDA and DAHS board member, toasted U.S.-Danish relations.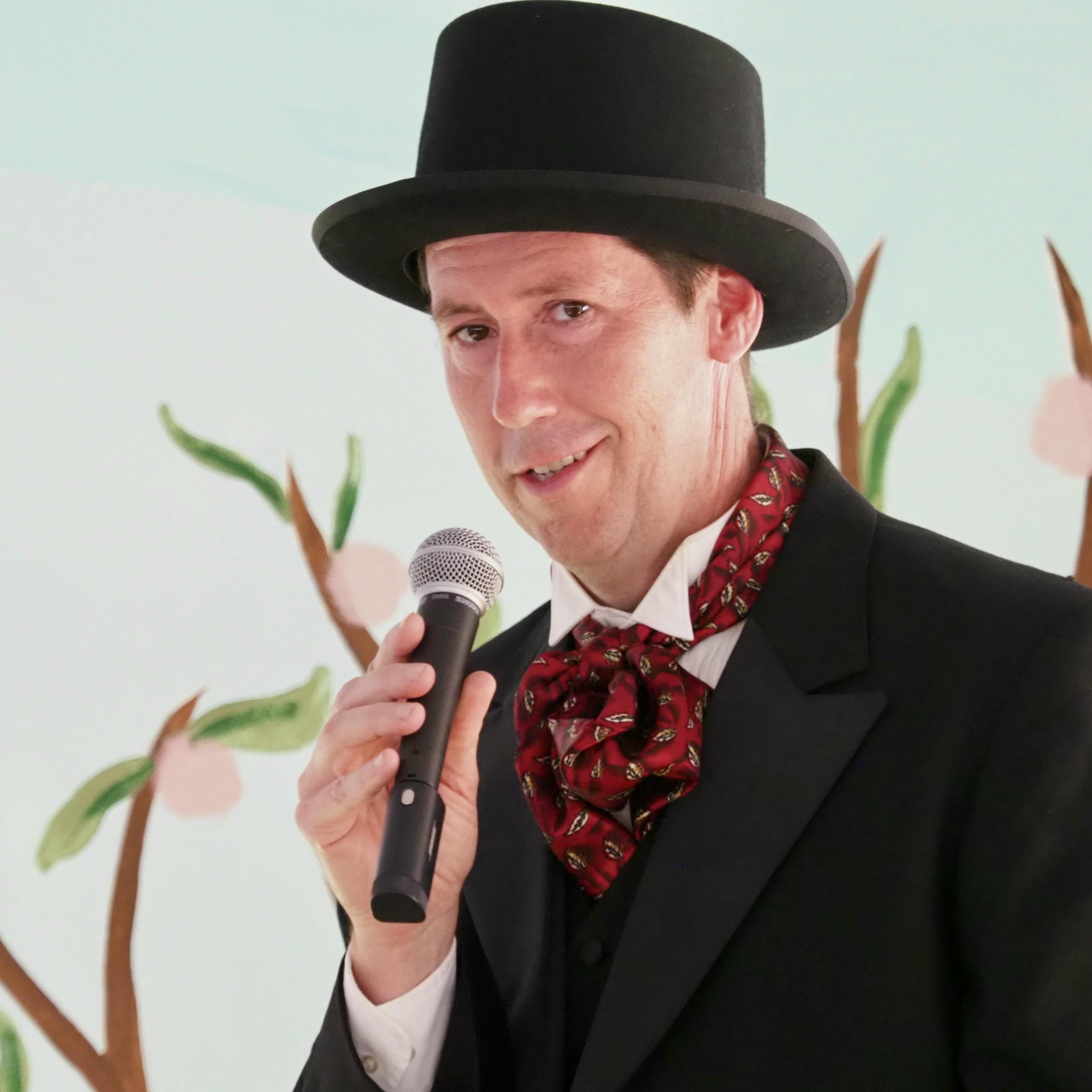 Hans Christian Andersen actor at post-dinner performance of "The Ugly Duckling" by a MoDA youth theater camp.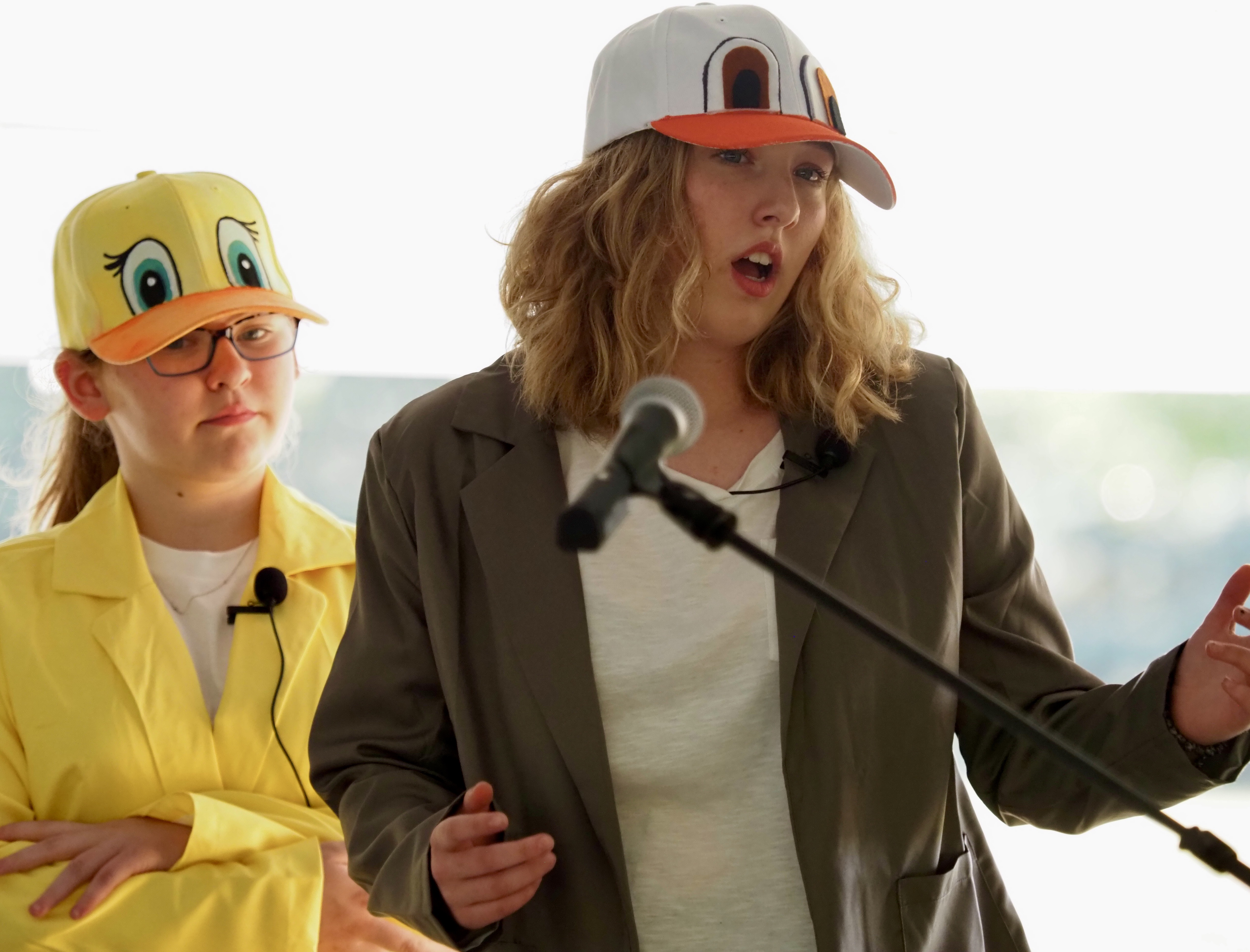 "The Ugly Duckling" actors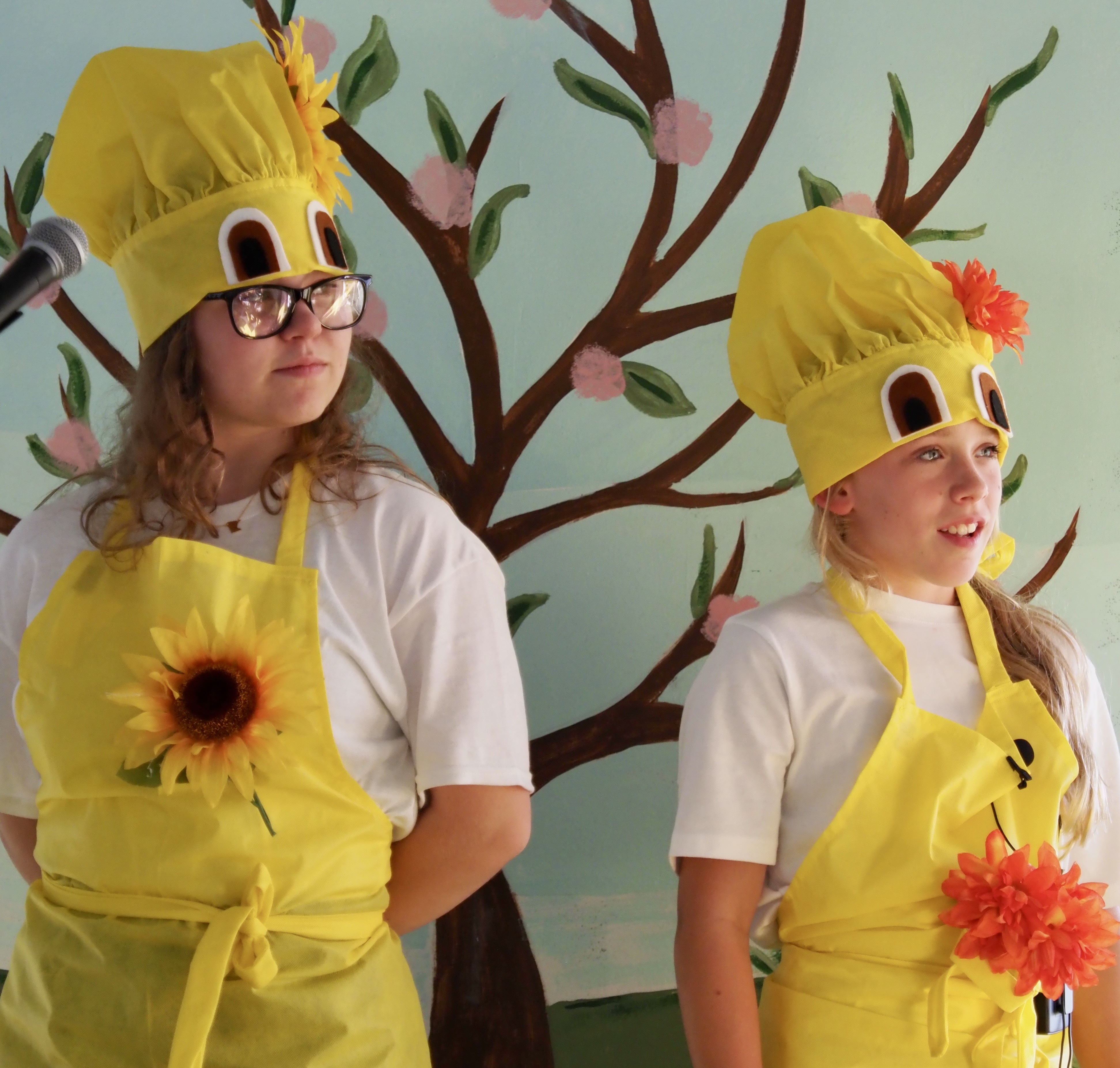 "The Ugly Duckling" actors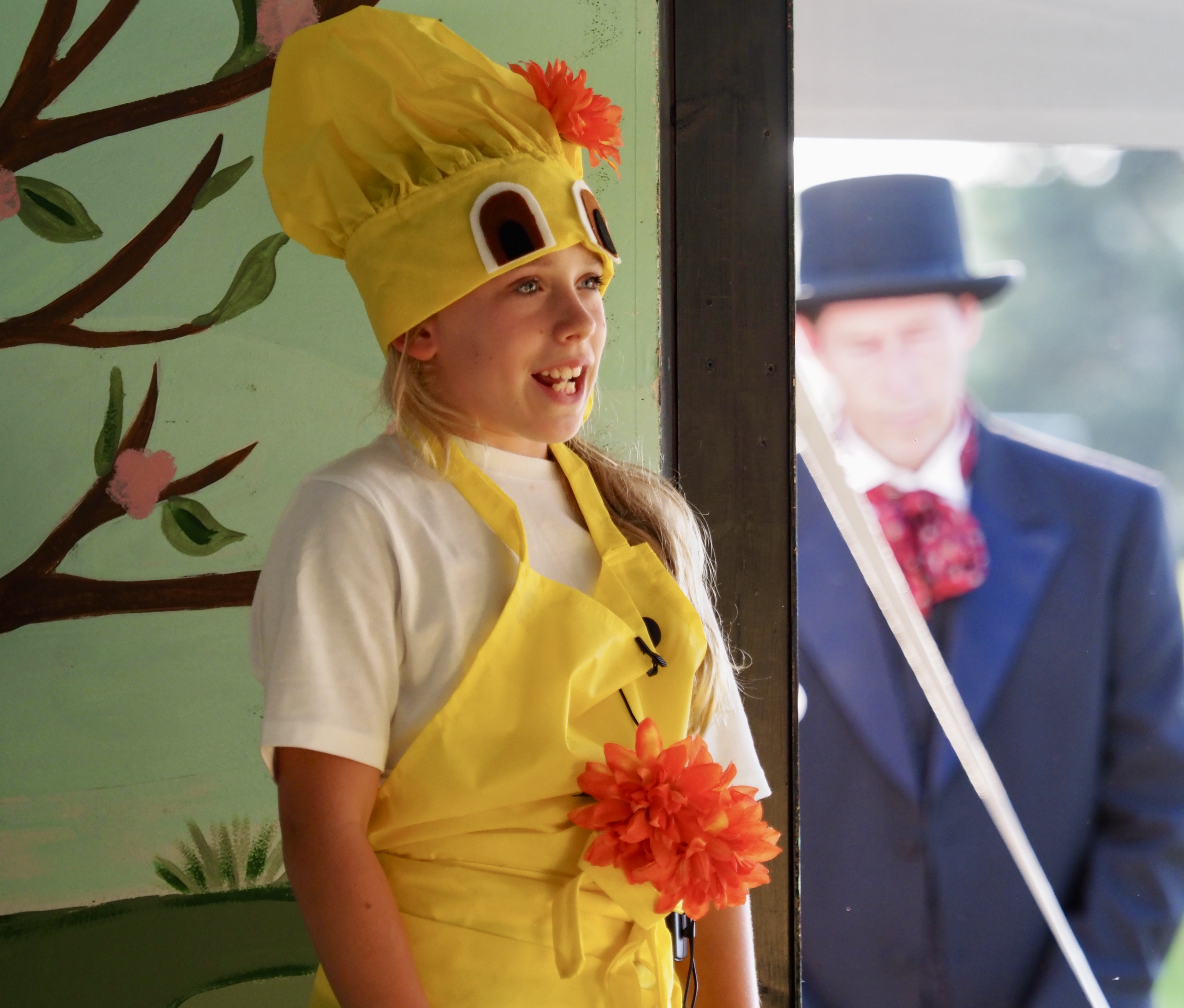 "The Ugly Duckling" actors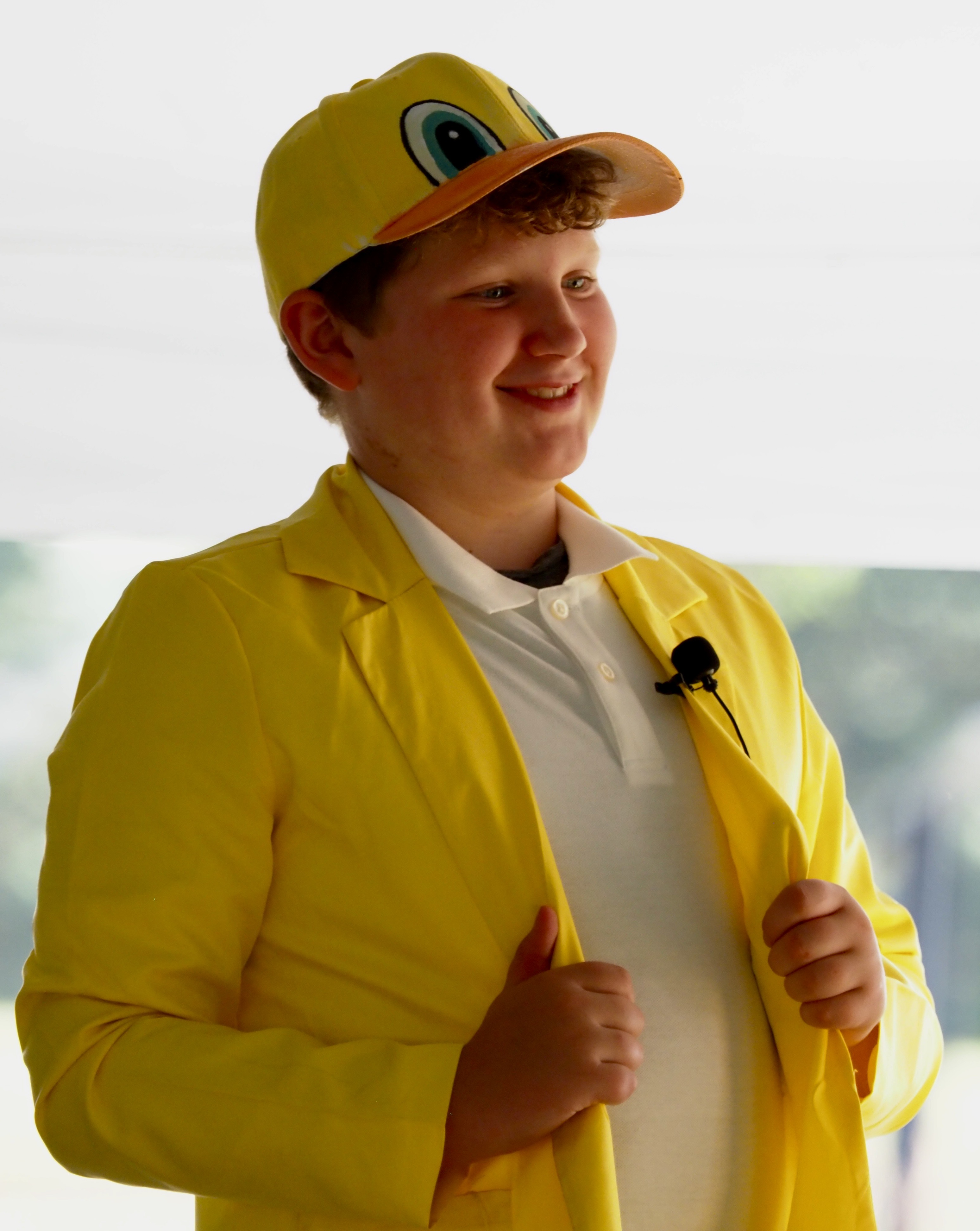 "The Ugly Duckling" actor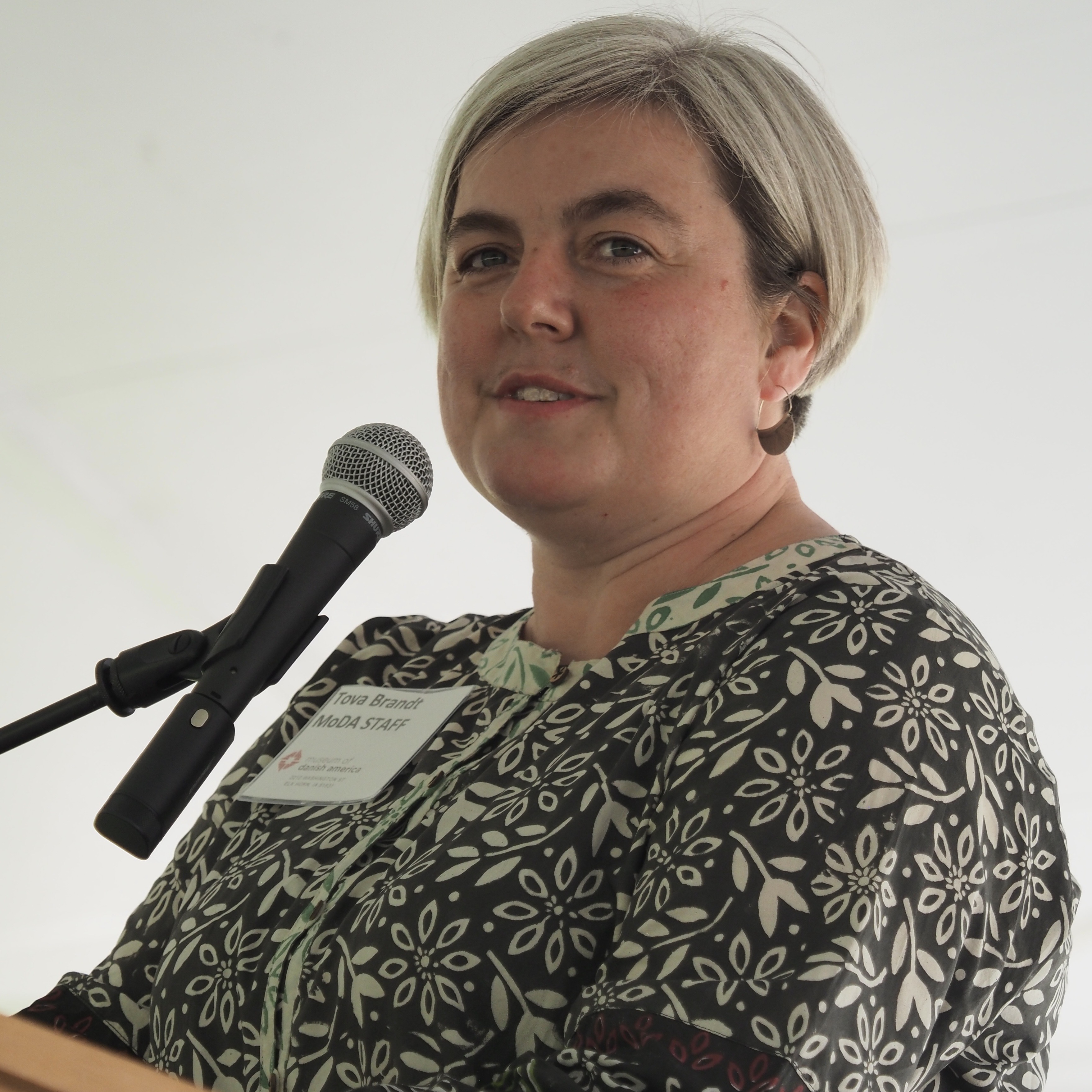 Tova Brandt, MoDA executive director, toasted the thousands of people who built the museums through their memberships, artifacts, volunteering, visits and goodwill.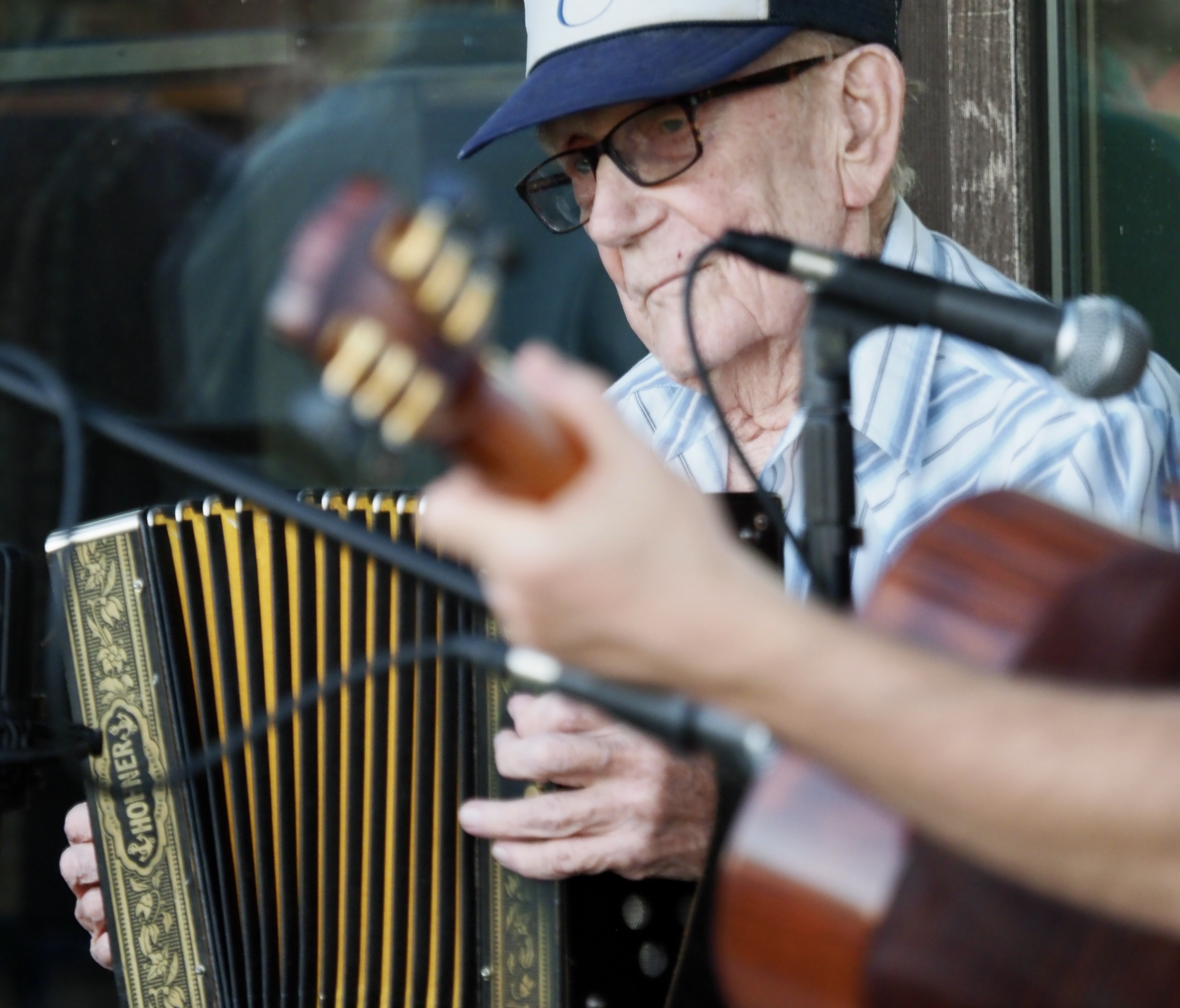 Danish button accordion player Dwight Lamb performed on the museum's east patio prior to the annual Sankt Hans Aften bonfire.